Manchester City goalkeeper Joe Hart has dismissed suggestions that he's pondering his future at the club - especially with incoming manager Pep Guardiola reportedly seeking goalkeeping options to challenge the Englishman for the first-choice jersey at Eastlands.
At 29-years-old, Hart is reaching the peak years of his career as a goalkeeper, but there's no doubt that if he continues to keep himself in pristine condition and avoids frequent injuries, he can continue to perform at a competitive level for a decade longer, if not more.
Pep linked with ter Stegen approach
Having already completed a move to sign Borussia Dortmund's Ilkay Gundogan last week, reports have already suggested Pep is mulling over the possibility of signing Barcelona goalkeeper Marc-Andre ter Stegen, a talented young goalkeeper who has grown frustrated with his lack of league action with the La Liga champions.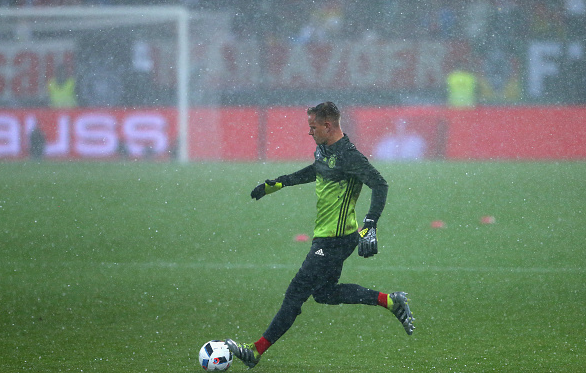 Despite this speculation, Hart - who is currently on international duty with England - has said he's not nearing the end, and his competitive edge is still alive and kicking.
Hart remains focussed and motivated to keep improving
As quoted by Manchester Evening News, Hart said he "loves football", and he's "hopefully got a lot of football" to look forward to in the coming years. He uses Pilates to keep in shape, whilst also studying other sports such as handball and basketball - to make sure he can continue improving and developing his goalkeeper-specific skills.
Joe, England's first-choice goalkeeper for this summer's European Championships, publicly admitted he can no longer "just roll out of bed" and "perform", something he states he's been "lucky to do" for the majority of his career. As a result, he has focussed on changing his lifestyle and taking more care about his diet - as well as recovery sessions after training and focussing on leg-based strengthening to keep fit.