Manchester City fullback Pablo Zabaleta could still remain at the sky Blues past this summer transfer window, as stated by the Argentine's agent. Having lost his starting XI right-back spot to Bacary Sagna, Pablo struggled to get much of a look-in as he was frequently injured - meaning a disruptive spell on the sidelines last season.
As a result, plenty of critics and newspapers alike have suggested he could leave the Citizens at some stage this summer in search of regular first-term football. Pep Guardiola officially takes charge in July, but Zabaleta's agent Federico Pastorello said that Zabaleta could still stay in the blue half of Manchester.
Inter amongst interested suitors for Zabaleta's signature
Serie A side Inter Milan have been heavily linked with a move for him in recent months, as former boss Roberto Mancini is reportedly hoping for a reunion in Italy.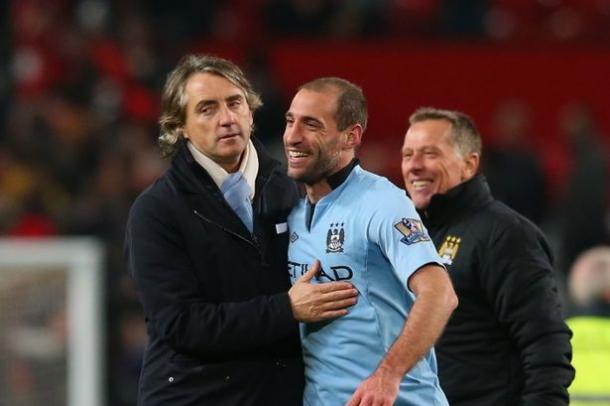 Back in May, Pastorello said we could "see him in Italy shortly", but Pep Guardiola is interested in keeping the experienced fullback - who has been at the club since 2008 and is a bonafide City veteran in the Premier League. As quoted by Sports Mole, Pastorello told Milan-based TV network Telelombardia the following:
"Zabaleta has another year's deal at Manchester City. I understand Pep has been confirmed but the opportunities in the market are endless - should there be other opportunities, we will evaluate."
So, what next?
At 31, Zabaleta is the younger of the current two first-team right-backs. Sagna (33) has impressed and is equally experienced but with age, consistency in performances becomes harder to continue if you're not playing regularly. As a result, it'd make sense to keep one of the older fullbacks and offload the other - especially with links to Real Madrid's Dani Carvajal suggesting Pep is in the market for a younger right-back in his squad.
In the past, Zabaleta has been public about his enthuasiasm over competition, so it'll be interesting to see how this story develops. Unless it's made clear that he's surplus to requirements, which is unlikely, you'd expect the Argentine to stay.