Pep Guardiola gave his first press conference as Manchester City boss, answering questions ranging from transfers to his goals.
Guardiola keen to avoid transfer talk
City have been busy in the transfer market with the likes of Ilkay Gundogan, Nolito and Oleksandr Zinchenko all wrapped up. Guardiola kept his cards close to his chest. He said that "all the clubs in the world try to make the best squad as possible. It's not the right place to talk about new signings".
Guardiola gave inconsistency, which ultimately cost City their title chances, prominence as he discussed the issues he must address. He accepts that it is 'difficult' in England "to find a team to win four, five, six games in a row is not easy. Maybe that's the challenge."
Speculation over Vincent Kompany's future was quashed as he stated that the captain was a "magnificent central defender" but the thing he wants more than anything from the Belgian was for him to be fit recognising how crucial he is to City's performances.
Despite the torrid summer that Raheem Sterling and Joe Hart endured, Pep is looking forward to working with the pair and helping them recapture their form. Speaking specifically about Sterling, Guardiola stated that "he has a problem with the money paid for him in the mind's of people, but I am looking forward to working with him."
Guardiola admits he must "prove" himself
Many critics have made the judgement that Pep will find it tough to implement his tactics and style of play in England but he relishes the opportunity. The Spaniard defiantly said that he is "here to prove" himself. He continued, "it would have been easy to stay where I was but I feel this is the right moment to move here".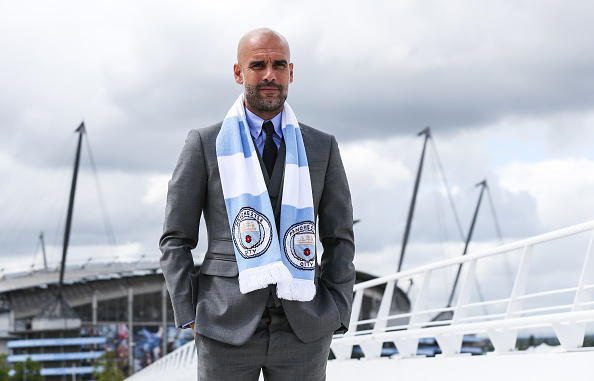 Guardiola's style of play, combined with his immense trophy collection, of course, is what makes him unique. He described what he would like to implement at Manchester City. "What I want is simple," he said. "I want to get the ball back as soon as possible" and "when we have the ball" the team must "create chances, so simple". That will please the City fans who had to endure the somewhat stale tactics of the season just gone.
The more physical element of the English game is what some feel will hinder Guardiola's game plan but aid from Brian Kidd and Mikel Arteta, fresh from his move from Arsenal, is said to be bringing him up to speed on the technicalities of the English game.
The new boss looked forward to the competition he faces in England with the recent influx of high-quality managers to the Premier League. "I think it's great [that] top managers are here in England. Big managers take me to another level - they push me to achieve things".
Speaking of big managers, his nearest neighbour and longtime nemesis, Jose Mourinho, was mentioned, as to be expected. However, he maintained the fact it's not about him and Jose and that comparisons shouldn't be drawn at every opportunity saying; "What I saw from a distance is that it's tough in England".
Perhaps the simplest and maybe most important quote of the conference was his expectations of his squad and his tenure here. "Hopefully, we'll play well, win games & people will be happy with us," Guardiola said.
He revealed that he has "big expectations and hope things go as well as possible".