Pep Guardiola will improve the players at Manchester City during his tenure as manager, according to Xabi Alonso. The former Liverpool and Real Madrid man, who currently plays his trade in Bavaria with the Bundesliga champions, was managed by the Spaniard for almost two years up until his departure a matter of months ago.
Xabi warns City players about change in training methods
Alonso has publicly warned City players that they should expect a "very different" method of training to those they are used to, but has said if they maintain faith and embrace Pep's changes, they can reap the rewards and ultimately learn plenty from the man himself.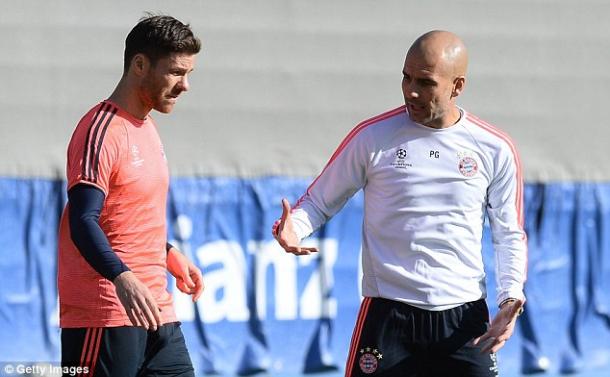 As quoted by the Daily Telegraph, Alonso said Pep "wants to give players the tools to be better", and he likes his players to "think more about the game".
Pep's passion and tactical nous will help improve players
On a personal level, Xabi said he learned a lot from the former Barcelona player and manager in his two-year spell under his tutelage, and City players can become better "because of working for him."
"It is an emphasis on the details around football that he focuses on, the smallest of things."
Guardiola's City side will face managerless Sunderland at home on the opening weekend of the new 2016-17 Premier League campaign in his maiden competitive fixture as Citizens' boss - and will be hoping to start off in style. Having narrowly lost 1-0 against his former employers Bayern in their pre-season friendly in midweek, Pep and his first-team players will be aiming for better luck as their preparations for the new season continue to intensify.