Manchester City take on rivals Manchester United as both sides continue their season preparations in a match where the clubs meet for the first time overseas.
With both teams welcoming in new managers for the 2016/17 season the match will be a real test as to which side is learning the fastest under their new bosses.
City, who recently appointed former Bayern Munich manager Pep Guardiola, have played just one pre-season match so far, a narrow 1-0 defeat to Guardiola's former employers in Munich.
As for United, who have now played two friendlies as Jose Mourinho looks to bed in his new signings and improve the fitness of the red devils, they have registered a 2-0 win over Wigan Athletic but were humiliated last time out with a 4-1 defeat to Borussia Dortmund.
Pep - Jose
The revival of the rivalry between Guardiola and Mourinho, who have clashed on numerous occasions in recent years, has been one of the major taking points going into the new season.
Two of the world football's most successful managers over the past decade have become rivals on the touchline and their relationship is well documented to be rather tense.
Despite the match not meaning anything in terms of points to the two sides, certainly bragging rights will come into play going into the new season, not to mention that the match will provide the perfect opportunity for either of the two bosses to get one over on their managerial nemesis.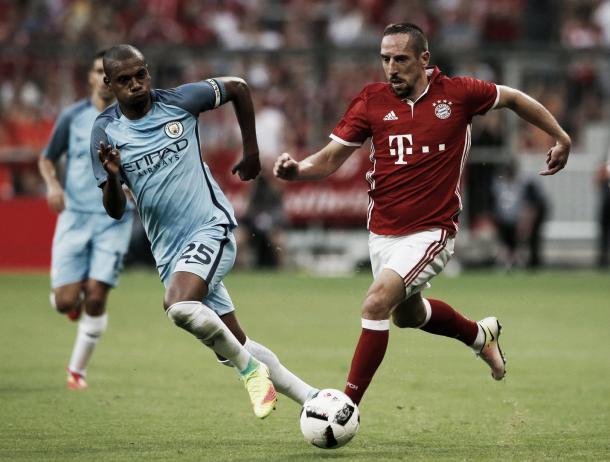 Previous meetings
The two sides last met back in March when United's Marcus Rashford scored the only goal of the game at the Etihad stadium to take all three points for the red devils in an important match in the race for fourth spot.
City haven't beaten the reds since November 2014 when Sergio Aguero, who may miss out on Monday's encounter after only recently joining up with the squad, scored the only goal of the game in the Premier League ​tie.
Team news
With both sides trying to bed in new players as well as improve their fitness levels it is difficult to predict the sides that both managers will field.
With just three City players now missing from the tour; Kevin De Bruyne, Eliaquim Mangala and Bacary Sagna, the blues have a strong squad to choose from.
As for the reds Eric Bailly, Juan Mata, Luke Shaw and Ander Herrera all played 90 minutes in United's previous match so could all be rotated as Mourinho looks to give minutes to his squad.