Following the shambles that was Monday's cancellation, Pep Guardiola will be glad to see his Manchester City side get some valuable pre-season game time against German outfit Borussia Dortmund.
Last time out
The Blues' last fixture saw Guardiola return to former employers, Bayern Munich, where they were unlucky to be defeated by a cruel deflected shot having been in control for large parts of the game.
Meanwhile Borussia Dortmund picked about City's red neighbours with ease, with Manchester United conceding four, the pick of the bunch coming from newly-signed Ousmane Dembele.
Team news
Guardiola now has the full compliment of players to choose from with the likes of Sergio Aguero, Nolito, Joe Hart, Raheem Sterling and David Silva available for selection.
Expect to see plenty of youth retaining there place with Oleksandr Zinchenko, Pablo Maffeo and Angelino all impressing against Bayern.
Thomas Tuchel has nearly all his players at his disposal for tomorrow's fixture with new signings Marc Bartra, a player Guardiola will be familiar with from his time at Barcelona, linking up with the squad.
However Gabonese international Pierre-Emerick Aubameyang - a rumoured City target earlier this summer - will be absent. The striker has flown home to Germany to be present at the birth of his second son.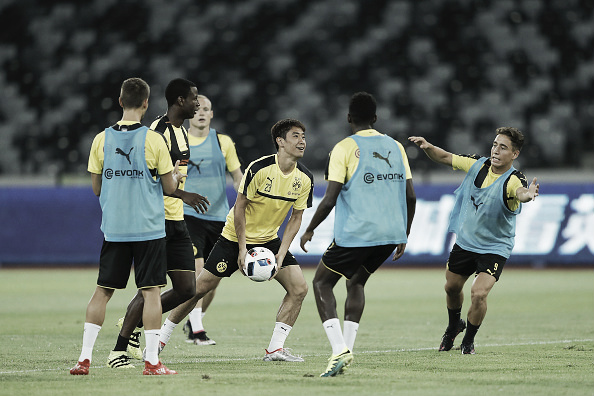 What are the managers are saying?
Guardiola is still analysing his players closely trying to understand them as best he can, saying: "Every coach has their own ideas from the beginning so I just have to keep training with them so we know what we want to do this season".
Tuchel, meanwhile, had to address rumours circulating star striker Aubameyang, and didn't exactly give the straightest of answers.
Intially he was "totally confident" about the striker's future being at the club, insistng: "We have a long-term contract, which is a completely different situation for us than it was for our other key players, like Mats, Ilkay and Mkhitaryan."
However, he then later went on to imply that this could be subject to change, which will surely be concerning for Dortmund fans who know Aubameyang has a desire to play for Spanish giants Real Madrid some day.
The verdict
As with any friendly the result has very little meaning. Rather, it is just an exercise to establish tactics for the upcoming season as well as an exhibition for the young talent on show.
The game is unlikely to be as open as the one against United but expect to see both sides net with each team boasting a wealth of individual talent.