Manchester City manager Pep Guardiola is frustrated with the gruelling schedule imposed on his players which has limited his preparation time for the new Premier League season.
Having played just twice in pre-season, after the Manchester derby in Beijing was cancelled due to an unplayable surface, City find themselves struggling for time to be ready for the new season as Guardiola seeks to impose his style of play on the Blues.
With most of his City players having just returned from international duty, his players have had little rest and are back on the training field being coached by Guardiola as he aims to take the club to glory next season.
The Blues boss said: "In football the season starts when the last one finishes. You don't have time to rest, we are going to kill our players."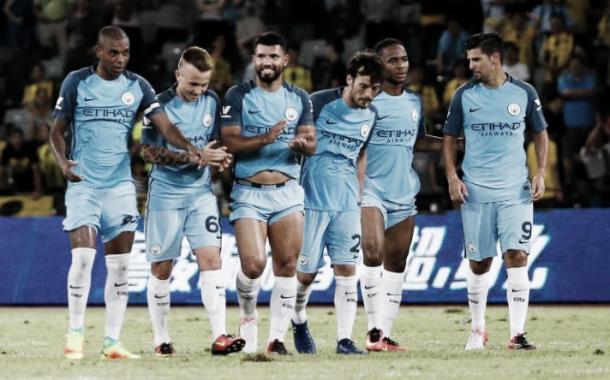 With Guardiola already up against it after having one match cancelled, City have had to schedule in an extra game against St Johnstone before playing Arsenal in Gothenburg before the season kicks off.
The former Bayern Munich boss continued: "I don't like to complain. I would like to have more time from the beginning. Competitions finish so late and start again so early so we have to adapt."
Still work to do
Guardiola sealed his first win as City boss yesterday in China as his side beat Borussia Dortmund 6-5 on penalties after a 1-1 draw in Shenzhen, but despite getting his first win under his belt, his City stars are far from the side he wants them to be.
"They're far away from who we want to be." The City manager explained; "People cannot imagine how difficult it is to build up something. We need time and in the end we are going to do it. There are many things to improve."
City will now travel back to Manchester to face St Johnstone as Guardiola looks to give minutes to as many players as possible ahead of the new season.