Pep Guardiola arrived at Manchester City with many expecting the Catalan to perform a revolutionary like job. To implement a style of play and a winning mentality that would take the blues right to the top of European football.
Now that job, undoubtedly is within the former Bayern Munich manager's capabilities, but the simple fact is that those who pass through the Etihad stadium turnstiles every week, should not expect their club to breeze the Premier League this year.
Guardiola took the first team job at Barcelona after working with the youth teams, after spending years coaching the same players who understood his and the club's philosophy, with those who have been brought through the La Masia youth academy.
After leaving the Camp Nou and finding himself in Munich after a year sabbatical, Guardiola took over from an incredibly successful team that had just won the treble under Jupp Heynckes.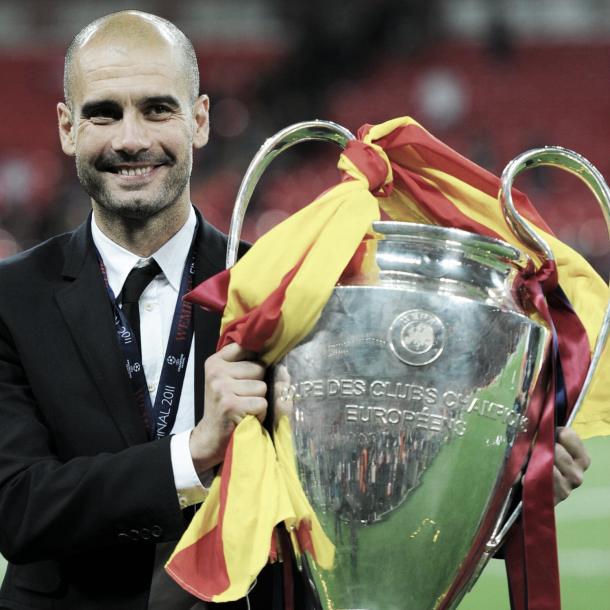 With Bayern Munich dominating the Bundesliga and Pep being welcomed by an already successful team it was clear that the foundations were there for him to build on.
After the good work by Heynckes, Guardiola was seen to add pace to the efficient German side, not to mention a red-hot Robert Lewandowski as Bayern won three consecutive Bundesliga titles, two German Cups, the Super Cup and the Club World Cup.
When arriving in Manchester he was greeted with a handful of players with diverse nationalities, all with a varied style of play and understanding of the game.
Evidently the foundations left at Barcelona and Bayern are different from what the 45-year-old has been handed at City. But Pep will make a success of it, even if things do not come together straight away.
Of course the players that awaited Guardiola at the start of pre-season are successful players, all of whom have earned their place amongst the league elites. But they are no world beaters and there is not a philosophy running through the DNA of the club.
Summer signings
City's squad is far from a side which is ready to challenge for all honours under Guardiola. They underachieved last season under Manuel Pelligrini, who managed to scrape the blues past Manchester United into fourth place and qualify for the Champions League.
But there are signs that City are moving in the right direction with Guardiola bringing in players this summer to fit his passing and high tempo philosophy.
From Celta Vigo, Nolito joined the club having already worked under Guardiola when the pair were at Barcelona. Ilkay Gundogan, a dynamic midfielder is said to offer a vibrancy to the midfield and has been likened as a "Guardiola player" for his passing ability and his pressing qualities.
City's most expensive signing of the window so far is Leroy Sane after he joined the blues for a fee believed to be in the region of £40 million. Sane will offer width and pace as well as undoubted trickery, the 20-year-old is an exciting prospect and will become a key player for the blues in future seasons.
Frustrated Pep
But to implement a philosophy to the right players with the right amount of coaching takes time. That is one thing Guardiola does not have going into the new Premier League season, and he has made no secret of his frustrations about the lack of time he has had with his players to prepare for the new season.
After questioning the schedule for his City stars which he labelled is "killing the players", Guardiola has also stated that he would have liked more time with his players from the beginning of pre-season, which was interrupted due to the majority of the City squad being involved in Euro 2016.
After having the Manchester derby was called off in Beijing because of an unplayable pitch, this not only reduced the amount of minutes against quality opposition, but also limited key game time for players to put Guardiola's ideas into practice.
The Blues have had to add in a late pre-season fixture, a behind closed doors tie with St Johnstone, so Guardiola can in fact give more minutes to his players before the season kicks off.
Premier League awaits
With the season due to begin on August 13 for City, a home tie with Sunderland, Guardiola has just over a week to fine tune his squad for David Moyes' visiting Black Cats.
It will not be a surprise if the blues get off to a slow start to their campaign, but with time and the right recruitment Guardiola will get it right.