A symbol of Manchester City and an honourary Mancunian, Vincent Kompany means a lot more to this club than most. Sadly the last two seasons have seen the captain plagued by muscle injuries that he just can't seem to shake.
Having been left out of the squad list against Steuau Bucharest in pre-season, Kompany should have enough time on his hands to recover full fitness in preparation for the new campaign.
Having missed this summer's European Championships through a groin strain he picked up against Real Madrid, Kompany has had plenty of rest, one would hope.
Given that he has not figured at all in pre-season, it will be interesting to see if the captain is up to speed. Fears about rushing him back this season need to be allayed quickly, three times last season he was brought back prematurely, triggering the same calf injury.
Pep Guardiola has already made it clear to Kompany that he will receive all the time he needs to regain full fitness saying: "I spoke with him and told him to focus on his body. Forget about the other things. - Just focus on recovering and to come back to what you were in the past with your physical condition."
Kompany not a guaranteed starter upon return?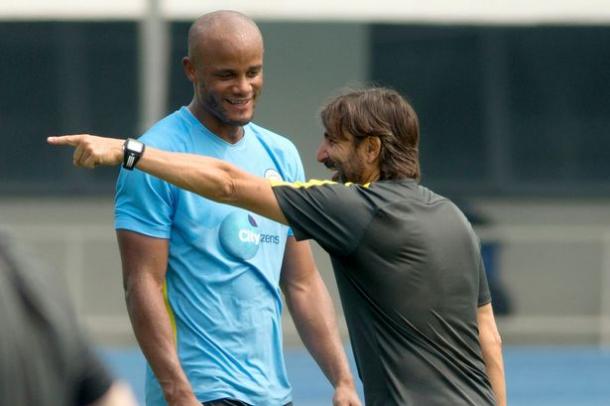 A lynchpin in both City's title sucesses, Kompany is integral to City's composure in the back line. In his absence City suffered some pretty humiliating defeats in particular the 4-1 mauling at the hands of Jürgen Klopp's Liverpool on home soil.
It will therefore be intriguing to see how Kompany is deployed next season, with Guardiola known to like centre halfs with good passing ability.
New arrival John Stones may compliment Kompany's playing style, though some have argued that Nicolas Otamendi would be a more suitable partner to the Englishman with a ball-playing defender accompanied by a hard tackling old fashioned centre half. Meanwhile whilst the futures of Eliaquim Mangala and Jason Denayer look uncertain despite their obvious promise.
A date hasn't been set for Kompany's return so tomorrow's opening fixture against Sunderland is out of the question, Guardiola most opting to go for Stones and Otamendi at the back.
The captain's presence cannot be understated and all those concerned with Manchester City will be eagerly awating his return.