Yesterday before Manchester United's Europa League match against FC Midtjylland, David de Gea hurt his knee during the pre-match warm-ups. He then underwent tests, and it was deemed he was unable to start, meaning Sergio Romero was the goalkeeper for yesterday's game.
The Spaniard went through more extensive tests today. The tests showed that there was no knee damage and that de Gea's absence will be just for a few days rather than a few weeks, which is what many presumed it would be.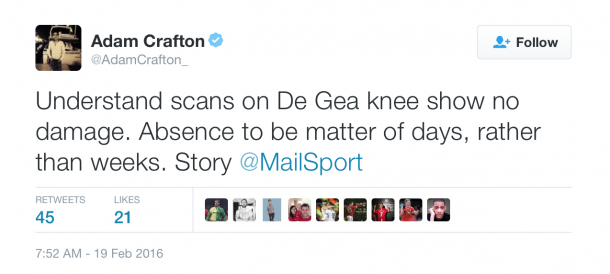 De Gea to return soon
According to James Ducker of The Times, de Gea is set to return in the home leg against the FC Midtjylland or against Arsenal. The Red Devils have an FA Cup fifth round match against Shrewsbury Town this week, but Romero is likely to get the start for that one as a precaution for de Gea to be able to start in one of the next two games for United.
Both games are a must-wins at this point for United as they sit fifth in the table, six points behind the final UEFA Champions League spot. They are also behind on aggregate to the FC Midtjylland in the Europa League as the Danish side stunned the visitors, picking up a 2-1 win.
De Gea has been vital to United
The news that de Gea is fine brings relief to many United fans as they know he has been the club's best player all season. This term, the Spanish number one has nine clean sheets to his name in the Premier League. He's made 22 appearances in the league for United, tallying 58 saves. In all competitions, he's made 31 total appearances, making 77 saves. In de Gea's last game against Sunderland, his own goal led to United's defeat at the the Stadium of Light as the Black Cats took it 2-1.