Manchester United go into an FA Cup tie with Shrewsbury Town knowing a place in the quarter-finals is up for grabs. Under normal circumstances, this would almost be a bye to the next round, even if it is at Greenhous Meadow. It shows how far United have fallen that nobody is even certain if United can win. It's a David versus Goliath clash, but United have been pummeled so many times this season, they are almost on their knees already.
With clashes like this, there is media focus and the normal sounds coming from the minnows camp are phrases such as "Dream come true" and "Going to enjoy the occasion". They are happy to be sharing a pitch with the big boys. Yet Shrewsbury's players are confident of adding more misery to United in what is already a disastrous season. How has it come to this? How is it that any team, literally, fancy their chances of beating one of the worlds biggest clubs? Here are five reasons.
1. Lack of leadership on the pitch
United do not have a real captain. They lack someone who can organise, and, if necessary, take a game by the scruff of the neck. The style of play at the start of the season was attritional. There was a lack of risk taking. It was all about retaining possession and though not pretty to watch, United were compact and hard to break down. That is a great base to work from but without an organiser, a true leader on the pitch there was never a real threat going forward.
It was all safe, simple football that went nowhere. Opposition teams only had to line up on the edge of their box and they were almost guaranteed a draw. Some went away with more. In recent times, United have started throwing bodies forward and trying to take the game to their opponents, but there is no real balance. You don't have to defend all the time, and you don't need to be gung-ho either.
When United do commit people forward, the amount of times they are caught on the counter attack, completely exposed, is embarrassing. In the game against Chelsea at Old Trafford, Nemanja Matic had half the pitch to himself, and it was only his lack of composure that stopped Chelsea taking all the spoils. United do not have one player who can sense danger and organise accordingly.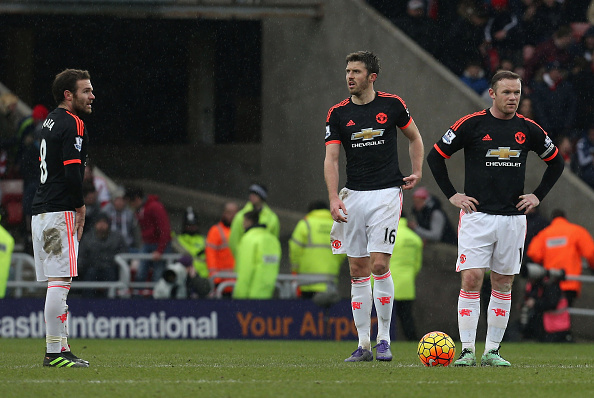 There isn't a player who can take responsibility for others, to ensure that players are in position, marking, supporting. There is none of that. There is also nobody to dish out a rollicking. Wayne Rooney is the captain, but he shouts at the referee more than his team mates. Lastly, there is not one player to lead by example. Even when United win, there are very few players that you can say gave it their all. Far too many seem to stroll through games.
It goes without saying that the team needs a Bryan Robson or Roy Keane, but they don't grow on trees. It is currently so bad that Vinnie Jones would improve United now. The bricklayer turned footballer turned actor had limited ability as a player, but could you imagine United's players coasting through games with him on the pitch? No. Until United get a real captain, the players will continue to get an easy ride, win, lose or draw.
2. The midfield is too nice
Modern football means that the likes of Jones are a dying breed. The so-called 'hardmen' can't really survive in a game where one or two innocuous fouls result in a booking. That doesn't mean that you cannot dish out the odd tough tackle, or as a minimum look after yourself. Once again United are lacking.
The summer brought investment in the midfield with Bastian Schweinsteiger and Morgan Schneiderlin both looking good signings. Schweinsteiger can dictate the tempo of a game, and Schneiderlin has a physical presence and is a good screen for the back four. They don't do the dirty stuff though. Neither does Marouane Fellaini, despite his size, or Ander Herrera. Add Michael Carrick to the list.
No matter who plays in the engine room, you don't have anyone who is prepared to get their retaliation in first. Everyone wants to play football first and foremost. Very noble, and if you can play with a nice tempo then it is what you expect from United. This team are far too nice though. You don't expect a United side to kick lumps out of opponents, but teams know they are going to have to stop United playing football and nothing else.
There is no aggression or passion. It is natural to look back at the great teams of yesterday. Keane and Paul Scholes were as good as it got as a midfield pair. They had everything as footballers. They played football first but rarely lost a battle if there was one. Both could dish it out. Both could take it. If either of them were absent, then Nicky Butt came in and he could equally play football and look after himself. They all had a nasty streak.
It's not that you want players to get sent off, but playing football is not enough sometimes. The midfield has to set the tone and occasionally, a game can come to life with a crunching tackle here and there. With a lack of entertainment, a decent hard, tackle gets the crowd involved. Fellaini doing a sneaky trip, or a spot of shirt pulling doesn't quite have the same effect.
3. Lack of attackers
Playing with a lone striker means that having four strikers of decent ability is no longer necessary. What United had in 1999, with four top strikers with differing styles, is a thing of the past. It was hard for Sir Alex to keep that quartet happy, but they all got games. With only one place up for grabs, then three main strikers is probably enough.
With that in mind, it is hard to fathom why Louis van Gaal allowed Radamel Falcao, Robin van Persie and Javier Hernandez to leave and not replace them. On the evidence of last season, all three may have struggled to make an impact this year, at United anyway. Two of the three are not exactly looking back, though.
Falcao has succumbed to injury at Chelsea, but van Persie is scoring goals with Fenerbahce and Hernandez is tearing up the Bundesliga with Bayer Leverkusen. The problem wasn't the players, but that United do not set up to serve strikers. The players have to be a lot more than a goalscorer. They have to be a target man, a link man and still get on the end of things.
Both van Persie and Hernandez especially struggled with that responsibility, but letting them go meant United were woefully short in both numbers and quality. They had to be replaced.
Rooney can do it but it the early part of the season, when United were reluctant to take risks, he struggled. He proved that he is far from finished with his recent burst of goals before he got struck down with injury. That is where van Gaal's decision not to replace hurts the most.
Anthony Martial is now expected to lead the line, and whilst he has no shortage of talent, as stated it is no easy job at United. He is 20, and it is a lot of responsibility to place on his shoulders. Should he pick up an injury, United are really in the mire. Will Keane is the only other option, and whilst he has been scoring for the U-21's, he has struggled at senior level.
James Wilson is a talent, but the decision not to recall him from his loan spell actually makes sense, even in this desperate situation. Probably even more so, because for the same reasons that it is going to be difficult for Martial, it would be just as bad for Wilson. It is better for him to get games and find some form than be thrown in during this difficult period.
Van Gaal complained that the squad was unbalanced when he took over, well most people could see that going into this season so light in attack was a huge risk, and the Rooney injury brings that point into stark focus now.
4. Injuries
Rooney's injury is a huge problem due to lack of an adequate replacement. That is van Gaal's fault, but he cannot be blamed for the horrendous luck that has beset the whole of the squad, and no more so than the full back position.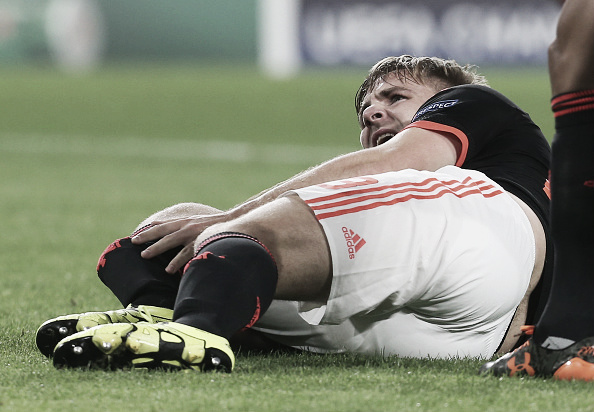 Antonio Valencia and Luke Shaw got injured long term early on. Ashley Young and Matteo Darmian took over, and both of those have also now suffered. Cameron Borthwick-Jackson looks a real prospect and took his opportunity, as did and Guillermo Valero to an extent, yet now both of those are out. The game against Midtjylland saw Daley Blind and another youngster, Donald Love, occupy the full back positions.
To have six players that can play fullback out at one time would stretch any team, but you can add Marcus Rojo and Phil Jones to that list as well, as both have spent a lot of their United career at fullback. The situation is quite freakish and probably down to bad luck, but it is something that has been prevalent throughout van Gaal's tenure.
A lack of fortune, the training methods, whatever the reason it has had an impact. Just when United hit the skids once more in terms of results, the injury situation has got worse and even David De Gea has now picked up an injury. This situation is not the reason for United's troubles though, it merely exasperates the situation. It is a headache van Gaal could well do without.
5. The Manager
David Moyes was a good appointment. So was van Gaal. So will the next man, whether it is Ryan Giggs or Jose Mourinho. Regardless of whether an appointment makes sense, or is a logical choice, it doesn't necessary follow that things will automatically fall into place. Nobody has a magic wand to guarantee success.
United are at a crossroads once more. Stick or twist? Ed Woodward made a quick decision with Moyes, and it is clear he doesn't want to do the same with van Gaal, but his hesitancy is threatening to end the season early, and throw United into even deeper chaos. What was meant to be an appointment that returned glory to the club, and produced a successor in Giggs is now in tatters.
With the CV that van Gaal possesses, the money made available to him, and a guarantee of more patience than was shown to Moyes, he has had every opportunity to fulfill his end of the bargain. He hasn't. His tenure has been a disaster. It is getting worse, not better and there does not appear to be a silver lining in sight.
His 'philosophy' or 'process' has had long enough now to really take effect. The players don't seem to get it though. Possession football without penetration has been the norm. When they have removed the shackles and taken risks, their defensive frailties are there for all to see. They get picked off at will.
The signings he has made can now start to be judged. The players he retained likewise. With the exception of De Gea and Chris Smalling, and maybe Martial, they have all been found wanting. How many United players would get in another top six side on this seasons evidence? Not many.
It is not all down to van Gaal, the players have to take their share of the blame, but the ultimate responsibility for results and performances lies with van Gaal. His inactivity on the touchline, his constant note writing suggest over analysis. Sometimes, standing up and bellowing instructions or even berating a player has its place. Van Gaal feels this has no effect, but whether it does or doesn't it shows passion. Sitting and doing nothing certainly doesn't help.
It is important to have a belief in what you are doing, what you want to do, and transmit that to your players. When it doesn't work, and things are going wrong, it is maybe time to swallow your pride and make some changes to your approach. Some reports say he has recently, but it appears to be a case of too little, too late.
The future, short and long term
The Shrewsbury game is the latest must win. It is incredible to even contemplate United not winning, but don't be too certain. Yeovil Town and Cambridge United hosted United in the competition last year and both gave United a run for their money. United needed a replay to get past Cambridge.
This season, United welcomed Sheffield United to Old Trafford and needed an injury time penalty to progress. In all of those games apart from the replay against Cambridge, there was no gulf in class. United laboured to get through all three ties and never looked like they were two divisions better.
That said, United should beat Shrewsbury. It will give van Gaal yet another stay of execution. He is on a game to game probation right now, and he can't afford to fail. The league and probably fourth place are gone now, so as was the case with Moyes, the cups are keeping van Gaal in a job. If he gets knocked out of either the FA Cup or the Europa league, then that is likely to mean the axe.
Giggs will almost certainly be asked to take charge once more, but unless he is given the job permanently then his future is unclear. Mourinho is unlikely to take immediate charge, but it there is every chance he would want Giggs if he were given the job in the summer.
Either man will have a monumental task of changing United's fortunes. Van Gaal's signings seem to have been made to fit his system, where the sum of all parts counts. Whether individually they can show enough to survive is open to question. They have under performed, and it could well be the case that van Gaal's successor decides that wholesale changes are necessary.
Until then all eyes will be on Greenhous Meadow, and van Gaal will be hoping that his career doesn't finish in such modest surroundings.