Amidst the links that he'll be signing with Manchester United, Jose Mourinho said he does not know about the job. The ex-Chelsea manager has been linked with the United job since his departure from the London club, and the reports have been heating up with Louis van Gaal on the hot seat.
Speaking at a school in Singapore, Mourinho said he's been reading many things and that nobody knows what he's doing next.
Bedy Moratti on Mourinho
This past weekend the ex-Inter Milan manager was invited back to the San Siro. He was seen with many Inter greats as well as director Bedy Moratti and her husband Massimo. When interviewed, Bedy Moratti said that the Portuguese was happy that he's going to Manchester.
Mourinho has been linked with the managerial job at Inter, where he led his side to a treble back in 2010.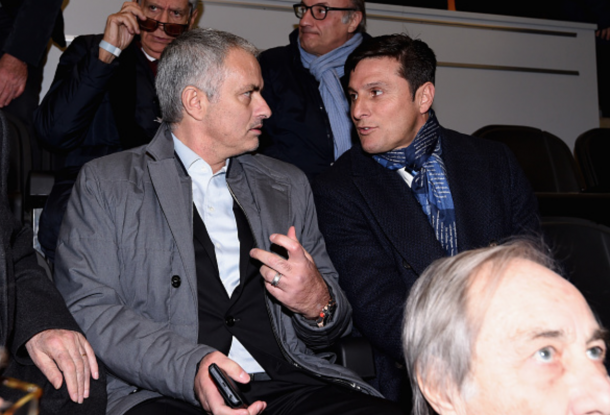 Strong links for Mourinho
Bedy Moratti is not the only person claiming that Mourinho will end up with United, whether it is sooner or later. Renowned Italian football journalist, Gianluca Di Marzio said that the 53-year-old would sign with the club, also targeting Atletico Madrid's sporting director, Andrea Berta. Also, Dan Roan of BBC Sport reported that the United and Mourinho were in talks at some point this month.
Despite all the links and speculations, van Gaal does not believe that United are in talks with the former Champions League winning manager.
Rivals making big splashes
City rivals Manchester City have already made it clear with their ambitions for the long-term future by snatching up Pep Guardiola as their next manager. United's other "blue rival", Chelsea, look to have their next manager lined up as well. Reports from The Guardian and The Times say that Italian National Team and former Juventus manager Antonio Conte will be the manager of The Blues.