Louis van Gaal confirmed after Manchester United's win against FC Midtjylland in the Europa League that Anthony Martial's hamstring injury is not too heavy.
Van Gaal says Martial done the right thing by ruling himself out of the game
Martial was originally named in the starting XI for the game against Midtjylland, but in the warm up before the game, the striker was seen holding his hamstring and subsequently ruled himself out of the tie. Van Gaal praised Martial for ruling himself out of the tie as he could have made it worse.
Van Gaal, on Martial's injury, said "I have to say the first impression is it is not heavy" which is a huge positive as Martial has been a very important player for United this season. The fans will be pleased to hear that it shouldn't be too long out for Martial giving how many injuries there are already to the team.
Van Gaal not surprised by injury to Martial
Van Gaal was not surprised by Martial's injury giving how many matches he has had to play this season saying "he can be tired because he is only 20 and he has played all the matches" which shows how important he has been, and he strikes fear into oppositions defenders when he plays with his pace.
Martial's absence didn't have big implications for United against Midtjylland as his replacement Marcus Rashford on his debut scored two goals, and looked like he had been playing for the team for years. Van Gaal though was very pleased that Martial stood down himself to not risk a far bigger injury.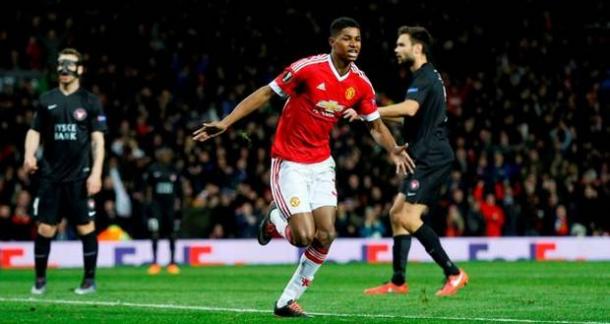 Van Gaal says Martial is very intelligent
Van Gaal on Martial stepping out of the game in the warmup said "I don't think Martial's injury is a muscle injury, because he is very intelligent and steps down when he is tired" which is incredible from the youngster who will need to play for United very soon with the amount fixtures that still need to be played.
United now head into a big Premier League game at Old Trafford on Sunday against Arsenal were Martial is not expected to play a part in which is a shame as he could have had a big say in the game. Martial though is expected to not be out very long which is fantastic news for the club.