Manchester United overturned a first leg deficit convincingly at Old Trafford against FC Midtjylland to go through to the last 16 of the Europa League. United won the game 5-1 thanks to a brace of goals from debutant Marcus Rashford, a goal from Ander Herrera, Memphis Depay and an own goal, but what did we learn from United's convincing performance?
Rashford deserves his chance
Marcus Rashford got the chance of a lifetime and he took it with both hands scoring a brace. Rashford was initially supposed to be on the bench for the game, but Anthony Martial was injured in the warm up so it meant that the youngster would be thrown in at the deep end. Rashford looked bright from the start of the game and showed class beyond his age and showed that Louis van Gaal's faith in him was justified. Rashford now deserves to get more chances in the first team and in the likely situation of Martial being out against Arsenal on Sunday then Rashford deserves another chance from the start.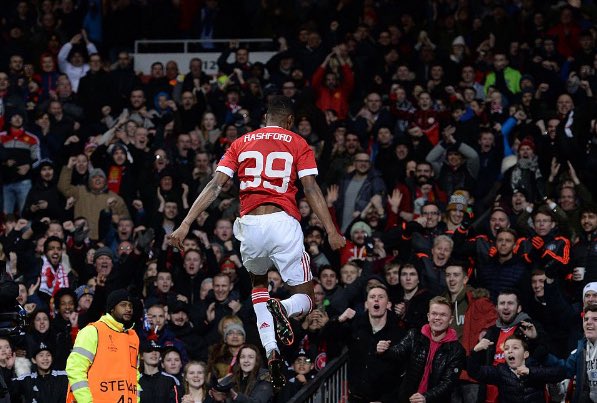 Memphis with confidence is unplayable
Memphis produced a magnificent performance for United during the win and capped off the game with the final goal. Memphis has been heavily criticised by a lot of United fans this season for a few poor performances, but last night showed why they have to give him more time. Memphis is a confidence player as he showed against Midtjylland and he constantly gave his marker a torrid time and got the right back sent off. Wayne Rooney is out for two months so Memphis will now get more game time to show how good he can be. The hope now is after this man of the match performance Memphis will take the good form into the Premier League for next few matches.
Varela continues to be very consistent
Guillermo Varela has come in from out of the blue for United, but every time he plays he seems to get even better. United have struggled in the right back area this season due to injuries to Antonio Valencia and Matteo Darmian. Varela against Midtjylland put in an immense performance and got a well-deserved assist for Rashford's second goal to make it 3-1. Varela has a lot of speed to get up and down the wing to make sure that he does his defensive job well which is what a perfect fullback should do. If Varela continues to perform at such a high level then Darmian and Valencia will struggle to get back in to the team.
Van Gaal has to allow the players to keep expressing themselves
United had a very depleted team for the game against Midtjylland, but it seemed to free the players up. Louis van Gaal has received a lot of criticism from the media and fans for not allowing his players to express themselves while playing under him. In this game though the team seemed to be allowed to go all out to try and get the goals. There were occasions for example when Morgan Schneiderlin who is the defensive midfielder in the team was popping up in the most advanced positions up the field. Van Gaal now that he has seen his side score five goals needs to let them go and out and try it more often and better results might start to happen and then the pressure will decrease for him.
United's youth academy players looks bright
United had a few academy players playing in the game such as Regan Poole who came on a substitute in the second half to make his debut at the age of 17. Rashford also made his first start at the age of 18 and we all know how he got on. The other one to make their debut was Joe Riley at left back and he did very well as well during the game. People have had a go at United's youth academy, but there is definitely some very good players coming through and the future of the academy looks very bright. These young players will only get better with more experience, but they looked right at home in the first team and they are set to get even more games before the season is out due to injuries.