In what many before the season hoped would be a clash between two title challengers, Arsenal travel to Old Trafford on Sunday looking to keep the pressure on leaders Leicester City and all but end Manchester United's top four hopes. Here's what to expect from Arsene Wenger's men.
Ozil sure to cause trouble
Arsenal are currently Premier League favourites with the bookmakers, and have enjoyed a good if inconsistent campaign. Their strength, without a doubt, lies in the wonderful playmaker Mesut Ozil. Ozil has had a season to remember so far, performing with remarkable consistency as he has racked up 17 assists and four goals to his name in the league.
That puts him just three behind the Premier League record for most assists in a season, currently 20 and held by Thierry Henry. A player who divides opinion like no other, there can be no doubt as to Ozil's quality and his performances this season have shown this quality in action. Manchester United – presumably through Morgan Schneiderlin – will have to find a way to stop Ozil dictating the game, because if he does so it will only be a matter of time before he makes a telling contribution.
At the other end of the pitch, Arsenal's only summer signing has turned out to be one of the signings of the season. Petr Cech joined the Gunners from Chelsea for a fee of £10 million, and has proved his worth many times with countless great saves that have saved Arsenal a number of points. It is a position in which Arsenal have been in need of a world class player for years, and the Czech international's arrival has certainly filled that void. It will take something special for United to score past the super stopper.
Has the Barca defeat halted Arsenal's momentum?
The recent of record of both sides leaves a lot to be desired; Arsenal have won just three of their last nine games in all competitions, with their last two games featuring a disappointing 0-0 draw with Hull City in the FA Cup and a 2-0 defeat to Barcelona. However, their last Premier League outing was the incredibly dramatic 2-1 win over Leicester where Danny Welbeck scored a 95th minute winner to give Arsenal a huge boost of confidence.
It remains to be seen whether that confidence still remains following two disappointing results, but it nonetheless represents a possible source of encouragement going in to this game.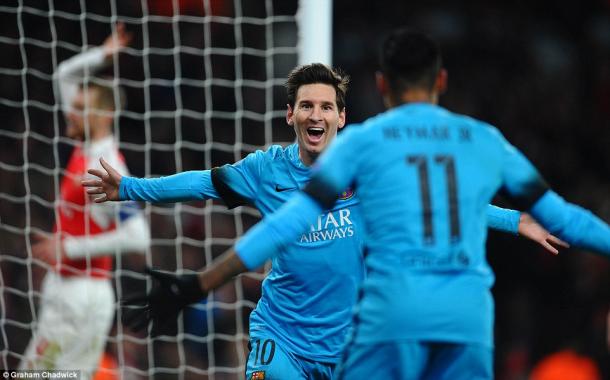 Gunners defence will present a sterner test
United's struggles going forward this season have been well documented, and despite two wins against Shrewsbury Town and FC MIdtjylland which yielded eight goals, the standard of Arsenal's defending will not make the task of scoring goals any easier. The Gunners have the second best defensive record in the top flight, and it is in wide areas where they really excel defensively. 20-year-old Hector Bellerin has been a revelation since his breakthrough in to the first team, and with Nacho Monreal enjoying a brilliant season on the opposite side of defence, it will be extremely difficult for United to have much success on either flank.
For a long time, the supposed 'curse' of Arsenal against United seemed to haunt Wenger's men in this fixture. Before the 2-1 win over United in the FA Cup last March, they had won just 1 of the last 15 games between these two heavyweights of English football. Since then, however, Arsenal have not lost in the 3 games the two teams have played, including a 3-0 demolition at the Emirates Stadium earlier this season, in which they dismantled United in a blistering opening 20 minutes. Recent history, then, appears to be on Arsenal's side.
Sunday's game will be a very tough affair for Manchester United. Arsenal's world class playmaker and goalkeeper, along with their stout defence, with prove a very stern opposition as Louis Van Gaal's men look to keep alive their hopes of a top 4 spot.