As all four of the teams above them dropped points, Manchester United's unlikely chase for top four has been given a huge boost as Juan Mata scored a beautiful late free kick.
The youthful momentum Louis van Gaal's side has built up in the past three games wasn't seen again, but instead it was Mata, the most senior player in the side, to lead them to another three points.
Odion Ighalo had a plethora of chances to give Watford the lead at the club he has supported for years, yet constantly failed to spot an oncoming teammate.
As United began to build late pressure, Watford's missed chances and David de Gea's heroics paid dividends and a Martial-earned free kick was dispatched superbly by Mata, captain for the night.
Quique Sanches Flores' side were dominant, particularly after half time. Ighalo's first chance came early on. Troy Deeney, working hard consistently on the left flank, won the ball for his team before releasing Ighalo. The Nigerian striker was slow on the ball before dragging it wide of the left post with Deeney and others waiting in the area alongside him,
It became the common theme of the evening, but Timothy Fosu-Mensah, playing in his full debut for Manchester United, dealt well with Ighalo and Deeney for the majority of the tie. The young centre-back used his large build to snatch the ball away, losing a shinpad in the process. That hunger and desire was matched by Watford's senior players too, though.
Ighalo wasteful all evening as Watford lose late on
Ighalo pounced on a terribly wasteful Daley Blind pass but again, it was wasted. Ighalo could have stormed away from Blind, towards De Gea but instantly shot, leaving De Gea with an easy catch.
Just moments later, Fosu-Mensah was left one-on-one with Ighalo but took the ball away from the striker's feet without bringing him down, despite all the pressure of being inside the penalty area.
United had small chances, and only that. Charging runs forward produced an exciting end-to-end game but were ultimately ineffective. Rashford and Martial both showed their superb footwork and pace and won multiple free-kicks, with the latter playing on the right to accommodate United's new star. Memphis, having picked up confidence from two great performances against FC Midtjylland and Arsenal, was kept moderately quiet but still a danger. Gone are the days, it appears, where the young Dutchman cuts in and shoots at every opportunity. The wasted chances, including one shot that looped out for a throw in incredibly, remain but Memphis' confidence leaves him looking the senior player in the side.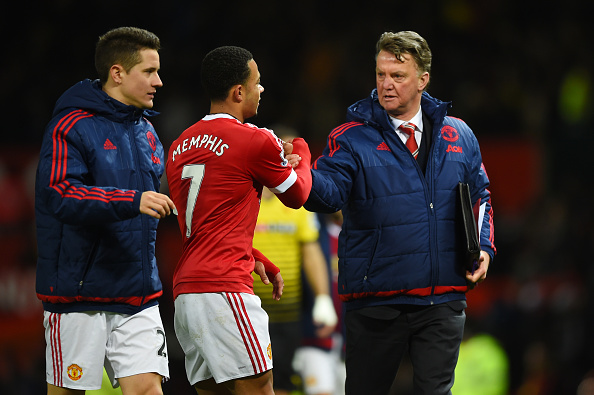 Fosu-Mensah, having got the wrong side of his attacker, brought down Capoue with virtually all four limbs, giving away a free-kick and picking up his first professional booking. Watford looked the home team, and the better team, in most aspects. From that free-kick, they used a planned routine, pulling the ball back before a shot was blocked. Back came the ball to Ighalo, but he unsurprisingly shot wide. Perhaps that one minute spell of three chances summed up a non-clinical evening from the Hornets.
Ighalo continued to have opportunities to redeem himself, turning brilliantly from a Capoue cross but pulling it well wide of De Gea's goal.
Manchester United outplayed but not beaten, catch up on City
Watford's tempo decreased with half-time approaching. Marcos Rojo cut back an excellent swerving cross from his left-back position. Anthony Martial, who has shown he only needs one moment to prove himself, collected it, cut back inside and tried to poke it with the outside of his boot to the near post, but Gomes saved comfortably.
If you had not noticed Ighalo's selfishness before, or his lack of awareness, he showed it plenty of times again. With Deeney presenting himself as the square option with the goal at his mercy, Ighalo drove past Fosu-Mensah and struck a shot into De Gea's feet. Moments later, De Gea would have another save from Ighalo.
Half-time saw no difference. Ighalo came out and after another reckless and careless pass from Daley Blind, Ighalo couldn't take advantage, much to Deeney's dismay. Capoue took matters into his own hands with a great dipping strike that swerved just wide from long range. Prodl's header was blocked by the unlikely defender Rashford before Deeney blocked another header, from his own player.
The ever-calm Quique Sanches Flores could have been forgiven for attacking his players as United got back into their flow. Mata hit a first time shot after the ball was pulled back but Ben Watson got his body in front of it as the end-to-end nature of the game continued.
Rashford, formerly a winger, looked comfortable out wide and just reached the ball on the byline to cross it back. That deflected just past the goal as it looked like neither side could stab it home. Mata had a shot curl away from goal.
Marcos Rojo, having returned from injury a few days ago, was taken off for Matteo Darmian, returning from injury himself, with twenty minutes remaining. Ighalo was put out of his misery, having failed to score at the club he supported as a boy, and Nordin Amrabat replaced him, looking dangerous immediately.
The extra legs in the forward position for Watford looked like paying off. Yet Prodl missed another great chance, this time heading wide from just two yards.
Mata scores wonderful free-kick with less than ten minutes left
Martial was taken down by Britos, picking up a late booking. The Frenchman, having not featured since picking up an injury in the warm up against FC MIdtjylland, always has one spark in him that shows itself at some point in the game. Memphis, having missed an earlier set piece, ran over the ball for Mata to curl it around the wall and nestle in the back of the net. Full-time whistles had gone round elsewhere in the country, leaving United in fourth place and level on points with rivals Manchester City, with Tottenham Hotspur and Arsenal also losing.