Manchester United manager Louis van Gaal thinks that teenager Marcus Rashford has what it takes to join England for Euro 2016. He has already expressed his views on the fact that age is shouldn't be a reason not to be picked, as long as they have the quality to back themselves up.
Rashford, 18, has come out nowhere and has both shocked and impressed many in his few appearances. To add to the shock, he might even be an unexpected pick for Roy Hodgson's side this summer if his form continues.
Van Gaal has expressed his interest in playing youth players in his side this season and it seems that Rashford might be moving on to better things for his national side.
"I think that Mr Hodgson has answered the question. It is never too early; I have said a lot of times. Age is not important, it's the quality," said van Gaal after being questioned about Rashford's possible call up.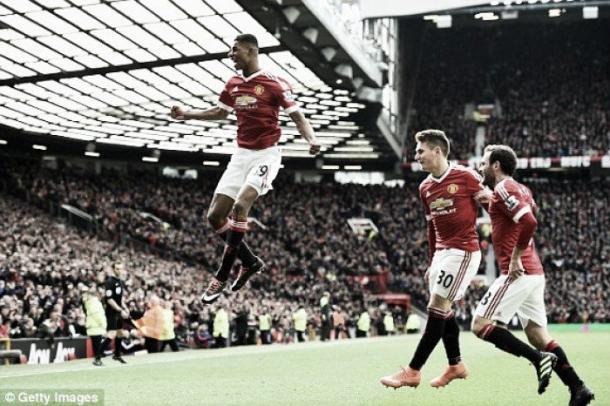 Rashford, over the last few games he has played for United, scored a total of four goals in his opening two games for United, which were against FC Midtjylland and Arsenal. But, the youngster drew a blank in his latest game against Watford, which United ended up winning 1-0 from a Juan Mata free-kick.
Rashford has scored four goals in three games.
Hodgson has recently confirmed that taking Rashford is in the back of his mind and wouldn't refuse the idea of taking the youngster to the first team. He said: "I would neither rule him in or rule him out. I just hope he can do well,"
The Mancunian striker, who has already played in the under-16 and under-18 sides for England, could make his way into the England side as teammate, Wayne Rooney, made his debut for his country when he was the same age, and with Hodgson following Rashford's movements through the FA, nothing can be counted out.
"I have been watching Rashford for two years so I have known about him for a long time," said the England manager.