A week is a long time in politics, someone once said. The same can be said for football. Things change so quickly. As Manchester United prepared to face Midtjylland in the second leg of the Europa League second leg, Louis van Gaal's star had never been so low. When Anthony Martial got injured in the warm up, United's lack of attacking options combined with their awful form meant that game could have been van Gaal's last.
During van Gaal's tenure he allowed Danny Welbeck, Robin van Persie, Radamel Falcao and Chicharito to leave the club. That decision looked like it was a mistake as it left United short in numbers and quality. For much of the season United have struggled in front of goal, and just when Wayne Rooney started scoring and United looked a bit more potent, injuries hit hard. The injuries to Martial and Rooney would have paved the way for the recalled Will Keane had he not suffered an injury in the FA Cup game against Shrewsbury, so opportunity knocked for the youth team player Marcus Rashford.
Rashford has ignited United
His spectacular introduction and contribution was nothing short of sensational. To score a brace against Midtjylland was one thing, to repeat it against Arsenal another. His scoring run was halted against Watford, but he still showed up brightly, and was even moved from the centre forward position to the flanks and he still looked a threat. As van Gaal and United looked in desperate trouble, a young kid as invigorated the season in little over a week. Despite his tender age, his performances have been high quality and also very mature. His movement and timing of runs are not what you would associate with a youngster.
Cue the calls for an England place. It is quite unbelievable that after three senior appearances, Roy Hodgson duly obliged and mentioned Rashford as someone who is in his thoughts. It is so premature for any talk of senior England appearances, even though Rashford looks like he is a top class talent. What he needs now is to get games under his belt, and ideally continue finding the net. He hasn't made it yet, but what he has done is put paid to any thoughts of the past.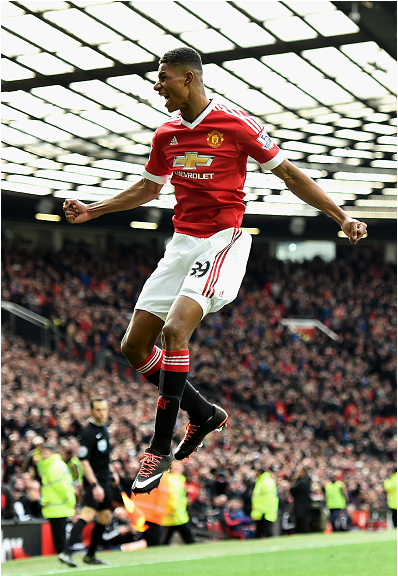 Welbeck turned up at Old Trafford on Sunday and scored his second goal against his former club, though was outshone by Rashford. His injuries have meant he has not really justified the money Arsenal paid for him, but he if he can stay fit he probably will. It is fair to say United will probably not regret his sale. Van Persie has done well in Turkey since his move to Fenerbahce, but despite scoring regularly, he is not completing many 90 minutes, much to his annoyance. His best days appear to be behind him.
Falcao was of course only on loan, and since he made a similar loan move to Chelsea he has hardly featured at all, again mainly due to injury. The huge amount of money he commands weekly is better served in United's bank account. All three of those players have no shortage of quality, but United made the right decision to let them go. With United in apparent crisis, the same was not being said about Chicharito.
When United signed Chicharito in 2010, he quickly established himself as a fans favourite. He hit the ground running and his pace and finishing prowess caught Premier League defences off guard and he formed a good partnership with Rooney. He helped United win the League in his first season, and in the Champions League final against Barcelona it seemed like United's tactics were designed to suit the little Mexican. They looked to get the ball forward early in behind Barca at every opportunity.
Ultimately it did not work, but it showed how highly he was thought of. He was of course signed by Sir Alex Ferguson, and he is one of a number of players that struggled in the wake of his retirement. He wasn't given many opportunities under David Moyes, and he was loaned out during van Gaal's first season. It looked like he may get opportunities this year, but he is not suited to being the lone front man. In his last appearance he missed the target from the penalty spot, and van Gaal's reaction from the bench said it all.
And so, he was dispatched to Germany and to Bayer Leverkusen. Throughout his United career, he maintained a good scoring record with Mexico, so it was clear he retained ability. In the Bundesliga, he has proved it beyond a doubt. He has 23 goals so for Leverkusen, and 16 of those have come in the league. It was understandable with his fantastic form that when United were struggling for goals and even more so for players that some fans were questioning the decision to allow him to leave.
On Wednesday, the opportunity arose to see first hand how Chicharito was performing live at the stadium. Leverkusen were taking on the lowly Werder Bremen, and although they had lost their previous game at Mainz, Chicharito had scored their goal on his return from injury. The stadium wasn't quite full on a horrible cold and wet evening, but there was expectation that Leverkusen would win and Chicharito would have been hoping to add to his goal tally.
It never turned out that way. Leverkusen were shocking, and they crashed to a 4-1 defeat. As seen so often with United this season, if a striker doesn't get the service, they don't score. Chicharito didn't get much service, but although his team mates looked like they were out of their depth, Chicharito's contribution would have brought groans in most grounds. His first touch of the ball came as a short pass was routinely played into his feet., He never controlled the ball and it almost seemed to go through his foot. It would be one of those days.
He made a few runs which weren't spotted, but he was again in a lone striker role and he hardly got a kick. Leverkusen trailed 1-0 at half time, with the Bremen goal being the only shot in a quite dismal first half. The pace was slow and the football very sloppy. Leverkusen did come out with more purpose after the break. Unfortunately, they looked a bit clueless in the final third and even more so in defence when they were countered.
The evergreen Claudio Pizzaro helped himself to a hat-trick for Bremen and despite his lack of movement, looked the class player on show. Chicharito really was involved in only two incidents of note. He was finally presented with a good opportunity when they trailed 2-0, being put clear inside the penalty area to the right. He struck his shot low and hard trying to go across the goal, but the 'keeper saved with his feet. It was a good save, but he should have scored. His other contribution was to back into a defender and knock him over, which prompted some 'handbags'. He was substituted after 75 minutes.
One game is not enough to judge him, and given that he has been flourishing it is likely that this was just a bad day at the office. If United had retained him, there is no doubt that if he was provided the service he can score goals. This performance was reminiscent of so many in a United shirt though, and is the reason he was let go. Despite his post-Ferguson struggles, he was a popular figure that contributed to some of United's recent successes, and for that United fans will be grateful.
Van Gaal is not out of the woods, despite a really good couple of weeks. United's tails are up though, and Rashford's injection could just spark an unlikely charge for some glory. If nothing else, the local youth product has certainly shown that his more illustrious predecessors will no longer be missed.