Thank you for joing me for VAVEL's live coverage of West Brom - Manchester United you can find me on Twitter @Danialkennedy95 and until next time have a great evening
17:54 - United's first Premier League defeat at the Hawthorns still leaves them three points behimd Manchester City who have a game in hand while West Brom have eased their relegation worries by moving up 11th with 15 points sperating them and the drop
17:53 - West Brom have caused an upset ! It was always going te be a tough ask fro Van Gaal;'s side losing Mata just before the half hour mark but did well to hold out aslong as they did when Rondon fired home in 66th minute
FT - West Brom 1-0 Manchester United
90+2' - Doesnt look like United will be getting anything from this contest
90' - Four minutes added time
88' - Last change from the home side as Sandro comes in place of Berahino
83' - Interesting final substitution from United with Darmian coming off for Fosu-Mensah
77' - Memphis is on the action straight away as he delivers in a fre-kick but Olsson clears
75' - Another change for United as Depay comes on for the youn Rashofrd
71' - Rondon is at it again as he laid it off to Berahino but it doesnt set up well and it is cleared by United little over 15 minutes for United to get something
68' - West Brom make their second change of the afternoon with Sessegnon coming off for McClean
68' - The home side take the leasd! United had been solid all game but Pocognoli's cross was perfect for Rondon who took it down before smashing it home from 10 yards
67' - GOAL West Brom 1-0 Manchester United
62' - First sub for United with Schneiderlin coming on for Herrera still 0-0
58'- Yellow card for Olsson as he brings down Martial but Ander Herrera hit it straight into the wall
56' - The home side have been forced into a change with Dawson coming off for Pocognoli
55' - Good spell of play from ten-man United as Lingard cuts in from left and tries the shot but there is too much on it as it lands on the roof of the net
53' - United appeal for the penalty when Rojo's corss hits the arm of Gradner but referee waves play on still 0-0
51' - Martial dives into the area and plays it off to Rashford but his effort is defelcted just past the post
47' : West Brom starting the second half well with Fletcher flicking it to Rondon but it went straight through De Gea
45: Back underway in the second half.
Half-time: West Bromwich Albion 0-0 Manchester United
45+1: Ander Herrera does well to keep an attack alive for United. He sets up Lingard, with the flying winger beating two in the area, before the ball is taken from his grasp.
45: One minute of added time at the end of the first half.
37: Berahino beats Blind in the area, teeing up Sessegnon, who has his shot saved by De Gea. Up at the other end, Martial finds some room but his effort is blocked.
34: West Brom are having the better of it here, as Smalling is forced to dive in to prevent Berahino getting an effort on target from Dawson's cross.
27: Ooooh! Great effort from Dawson on the half-volley. He spots De Gea off his line, the Spaniard races back towards his own goal, but the ball lands just wide.
26: Red card! Juan Mata off for a second yellow! It's a silly little challenge, kicking at Fletcher after the ball had gone, and Mike Dean didn't have any choice but to give the Spaniard his marching orders.
24: Yellow card for Mata, who jumps in to block the Baggies taking a quick free-kick.
23: Close, but no cigar! Gardner whips in another free-kick, McAuley meets it but it's headed just wide. However, he was offside, so it wouldn't have counted anyway.
20: It's thundered in towards the near post, but deflects off the boot of Martial out for a corner, which is dealt with by United.
19: Blind fouls Berahino with a high boot, right on the edge of the penalty area. If that's slightly closer to the goal, it's a penalty. Gardner will cross the ball in.
17: First real effort on goal for the home side, blocked. Fletcher floats a lovely ball over the top to Gardner, he heads it back to Berahino, who has his shot smothered before it reaches De Gea.
10: No real chances yet, but the visitors don't look comfortable coping with the runs of Berahino and Rondon.
8: Wednesday's match-winner, Juan Mata, wriggles away from a few men to start a promising attack, but sloppy play from Martial quickly brings it to an end.
5: A quiet start to the game, the hosts looking to frustrate United, who are looking to make up ground on those above them.
0: Kick-off, we're underway in this one.
15:55 - Just a few minutes until kick-off now! Send your predictions into @VAVEL on Twitter.
15:40 - Pulis will be confident that his side can get something from the match as they have lost two in their last six matches with the Red Devils but have only kept one clean sheet in their last 19 meetings.
15:25 - Little over half a hour until kick-off in the Midlands and today's contest could prove a crucial day for United's push towards the top-four finish with just three points seperating them and fourth-placed Manchester City heading into this game
15:10 - Marouane Fellaini returns to the United squad for the first time in a month while Phil Jones and Antonio Valencia remain absent
15:09 - Tony Pulis named a unchanged side from their midweek 2-2 draw with Leicester City while Louis Van Gaal has made four changes with Smalling, Darmian, Carrick and Lingard coming in for Varela, Fosu-Mensah Schneiderlin and Depay
15:08 - Manchester United starting XI: De Gea, Darmian, Smalling, Blind, Rojo, Ander Herrera, Carrick, Lingard, Mata, Martial, Rashford.
15:07 - West Brom starting XI: Foster, Dawson, McAuley, Olsson, Chester, Sessegnon, Yacob, Fletcher, Gardner, Rondon, Berahino.
15:01 - Team news to follow very shortly
15:01 - Two undefeated sides are clashing at The Hawthorns today with West Brom unbeaten in their last three while Manchester United will be looking to make their fifth consecutive win in all competitons
15:00 - Hello everyone I am Danial Kennedy and welcome to VAVEL's live text coverage of West Brom - Manchester United
United rectified their mistakes earlier in the season when goals from with goals from Jesse Lingard and Mata giving them the comfortable 2-0 victory back in November.
United have only managed two wins in their last five matches with the side from the Midlands which includes two defeats at Old Trafford.
United are miles ahead of their opponents in terms of their overall head-to-head record but it has suffered in recent years with the Baggies changing the agenda.
However Wayne Rooney, Bastian Schweinsteiger, Will Keane, Luke Shaw and Cameron Borthwick-Jackson all remain absent.
Sunday could also see the return of Antonio Valencia, Marouane Fellaini and Phil Jones but will face a late fitness test. Michael Carrick could also see the return of Michael Carrick having been rested on Wednesday.
A big boost for United could be the possible return of star defender Chris Smalling who has been absent from the last three matches with the shoulder but could be in contention for a start at The Hawthorns.
Pulis will also be without both Callum McManaman (ankle) and James Morrison (hamstring) for the visit of the Red Devils.
Jonny Evans will not have the opportunity to face his old side as he remains absent with a hamstring injury that has kept him out of the last two matches. He will join his Northern Ireland teammate Chris Brunt who is out for the next six months after rupturing his anterior cruciate ligament.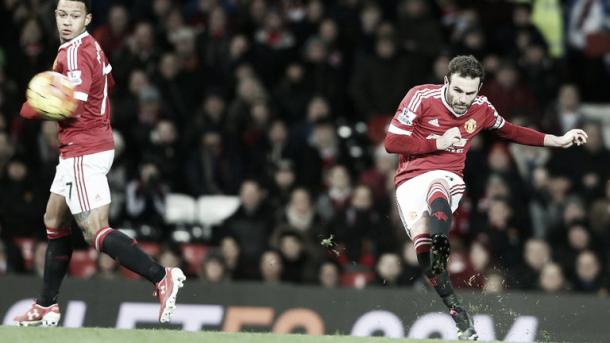 The Red Devils just managed to continue that form on Wednesday night with Juan Mata's free-kick giving them a narrow 1-0 win over Watford and with just three points separating them and fourth-placed Manchester City United will be desperate to close the gap.
Van Gaal looked like a dead man walking after the 2-1 defeats to Sunderland and Midtjyland but have turned it around since then with wins over Shrewsbury Town, Midtjyland and Arsenal.
Manchester United manager Louis van Gaal is the prime example of what a difference a month cam make as United will look for their fifth consecutive win in all competitions.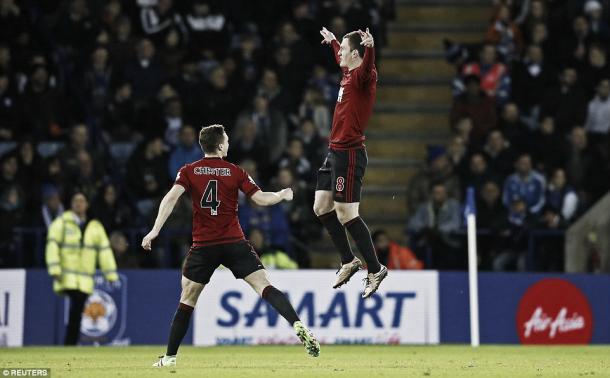 Salomon Rondon gave the Baggies the lead but goals from Danny Drinkwater and Andy King saw Claudio Ranieri's side take the lead before Craig Gardner's second-half effort saved the point for Pulis' side.
The threat of relegation looked all too real for Tony Pulis and his West Brom team, but their recent league form has eased the pressure of a possible drop down. They remain undefeated in their last three league matches with crucial victories over Everton and Crystal Palace and managed to get another point on Tuesday night when they took on league leaders Leicester City.
Good afternoon and welcome to today's minute-by-minute commentary of this Premier League clash between West Bromwich Albion and Manchester United. Kick-off at the Hawthorns is set for 4:00PM, but stick with us until then as we build up to the game and get that all important team news.