Juan Mata is an intelligent footballer and appears to be an intelligent man in general. On the pitch, he is always looking to do things quickly, always bright and alert. On Wednesday, he captained Manchester United and scored the winning goal as United defeated Watford 1-0. He had every right to feel pleased and proud. It was United's fourth win in a row, and they were just starting to ride the crest of a wave.
Unfortunately, against West Bromwich Albion, Mata had two moments of madness that may well have undone the good work of the previous two weeks. His two yellow cards were so stupid, it is hard to fathom. He should feel embarrassed about the first one, preventing Darren Fletcher from taking a free kick in his own half. Even had Fletcher spotted a player in acres of space, there was no real pay off by preventing the kick and he would have known it was a certain yellow card.
Mata tackling is a rarity
Maybe Mata took the card because he knew that he probably makes one tackle every three matches so the chances of him receiving another yellow in the game were remote. He clearly wasn't thinking, because two minutes later he was off. Although he did try and pull out of a challenge on Fletcher he was already committed and his momentum upended the ex-red. Mike Dean, the referee, had no option but to show another yellow card and dismiss the Spaniard.
The obvious downside to his dismissal was that United had to play for over an hour with ten men, making the chances of winning the game slender. Initially, there was no real change to the game, and United coped up until half time. For around 15 minutes of the second half, United actually took the game to West Brom, and did create some reasonable situations, but never really carved out any clear chances. When West Brom scored, the wheels came off.
Tiredness no excuse
Instead of taking risks and trying to salvage a point, or even snatch three, United regressed into the monotonous passing machine that has been seen far too often this season. Of course, United have played a large number of matches recently, and being a man down tiredness may have been a factor. However, both Anthony Martial and Jesse Lingard both looked sprightly and were looking to run at the defence at every opportunity, so tiredness is probably no excuse.
Apart from Marital and Lingard's efforts, it was either keep ball, or towards the end a good old fashioned hoof. Neither tactic worried West Bromwich in the slightest. Mata himself not being on the pitch reduced United's creativity, but the sending off also meant a change in formation, as Martial replaced Marcus Rashford as the lone striker. And this is where Mata losing his head could have more far reaching consequences than the defeat alone.
Rashford suffered against West Brom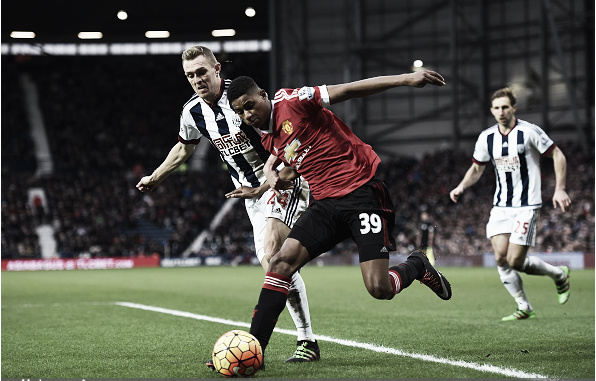 Rashford's introduction has galvanised United. His four goals in two games have grabbed headlines and thrust him into the spotlight. United's largely miserable campaign, and the 'Louis van Gaal out' brigade have almost been forgotten in the wake of Rashford's amazing start to his United career. He was never going to be able to continue plundering goals game after game, but despite making a switch out wide against Watford, he showed up well without scoring.
Against West Brom, he would have had a difficult afternoon even without Mata's intervention. West Brom have experienced, battle hardened defenders and are a tough team to break down. Prior to the Mata incidents Rashford had hardly got a kick. It may have continued that way, but with only ten men it was exceptionally tough for him. He actually played ok out wide, but it was not a game that he would have enjoyed. He probably wasn't alone.
Resolve needed from United
United need to win every game from here on in to make this season a success. The chances of that happening are remote. A four game winning streak could well have been extended but Mata really put paid to that. Had United won against West Brom, then momentum is a big thing in football and with teams above them dropping points left, right and centre then the top four seemed a real possibility.
The way United finished the match, the body language of all the players was a despondent one. They all seemed to look sorry for themselves and the mood in the post match interviews was, to say the least, downbeat. Just as matches can turn on an incident, so can seasons. Rashford's introduction sparked life into United, but Mata's could have the opposite effect. With huge games against Liverpool, West Ham United and Manchester City on the horizon, the little Spaniard will hope that this is not the case.