Manchester United manager Louis van Gaal has praised midfielder Marouane Fellaini for his performance in their 2-0 Europa League defeat to Liverpool on Thursday night.
Lacklustre performance
Fellaini returned to the side for the first time since the 1-1 draw with Chelsea and it showed, as the Belgian was heavily criticised for his personal performance in what was a terrible evening for the Red Devils.
The first European tie between these two sides has left United with a mountain to climb ahead of next Thursday's second-leg after goals from Daniel Sturridge and Roberto Firmino gave Jürgen Klopp's side the comfortable win.
Despite the heavy criticism against Fellaini, van Gaal has defended him saying that he was "one of the best players on the pitch".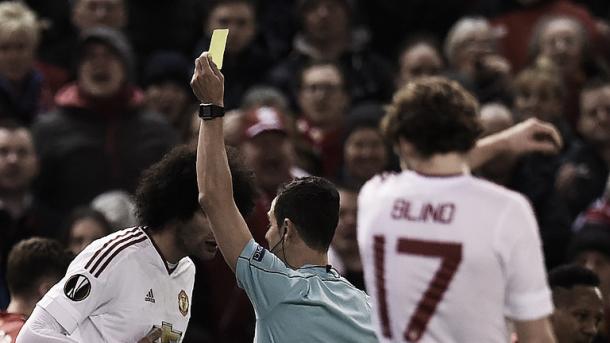 Reckless elbow
It is debateable as to whether Fellaini should have played the full 90 minutes, as he was involved in a very questionable decision towards the end of the game.
Television replays seemed to show the 28-year-old swinging his forearm into the neck of Liverpool defender Emre Can in an off-the-ball incident.
The fiasco was not caught by referee Carlos Velasco Carballo, who had already booked Fellaini, and talk of retrospective action from UEFA could see him absent from second leg at Old Trafford next week.
When asked about the incident van Gaal said he was "very sorry" when Fellaini "makes a mistake like that".
Nothing in it
Despite been on the end of the Belgian's arm, Can played down the incident after the game and claimed that there was nothing malicious in it.
He told Sky Sports that it was a "small fight" and not a "boxing ring punch".
The German continued, saying that Fellaini was a "fair sportsman" and that he touched his throat "with his elbow" but it was "okay".
Manchester United will look to bounce back when they host West Ham United in the FA Cup quarter-finals at Old Trafford on Sunday, March 13 with kick-off at 4pm GMT.