David de Gea once again received praise after giving Manchester United a small amount of hope ahead of the second leg next week.
Louis van Gaal once again suffered more misery in his United career as he saw his side crumble to a 2-0 first leg defeat to Liverpool at Anfield. A first half penalty from Daniel Sturridge and a second half strike from Roberto Firminho gives the Merseysider's a comfortable two-goal lead ahead of Thursday's second leg at Old Trafford. The home side had a number of chances to completely end any hope of a United comeback next week, but de Gea once again came to the rescue.
United manager van Gaal praised the Spaniard after a number of superb saves but admitted that Liverpool created pressure to win the game. He said: "I have to say that Liverpool have created an atmosphere that is fantastic. They played very good; in the first half, we could not cope with their pressure. Still, they have chances but David De Gea was fantastic."
Mata has a lot of praise for his teammate
Juan Mata, who was captain for the night was also quick to praise his fellow countryman about his performance. He said: "David was very good as always and that's not a very good sign for us because it means they had even more chances to score."
One of the stand-out saves from the Spanish goalkeeper was from Phillipe Coutinho when the Brazillian was unmarked at the back-post. Coutinho's right foot effort looked certain of a goal, but the reach of de Gea was enough to keep the score at 1-0.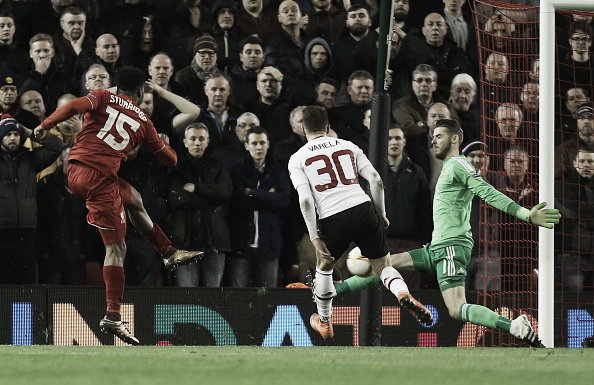 A number of chances from Coutinho, Adam Lallana and Nathaniel Clyne followed, but the keeper was impressive and saved the Red Devils from an even bigger mountain to climb. It has become a common thing this season with the Manchester United goalkeeper coming to the rescue, and he is starting to cement his name into being one of the greatest keepers in the world.
United are aware of the battle they face next week to make it through to the quarter final of the Europa League, but the saves that de Gea pulled off in the first leg could be more important than some think. It could mean that when the quarter-final draw is made, Liverpool may rue their missed opportunities to finish the tie off in the first game.