17:57 - That brings to an end to today's Vavel Uk's live coverage of today's clash between Manchester United and West Ham at Old Trafford. I hope you have enjoyed and I have been Brandon Sayer and until next time have a good night.
17:55 - The game came to life in the second half and both sides will feel that was the right result in the end. Payet opened the scoring with a wonderful free kick midway through the second half, but Martial scored a brilliant volley to rescue it at the end of the game. A replay will be needed at Upton Park to decide who goes through to the semi-finals.
90+3 - The full time whistle goes. Manchester United 1-1 West Ham.
90+1 - What a save for De Gea! Antonio produces a fine shot from outside the box that forced the Spaniard to get down sharply and save it.
90' - There will be three minutes of added in time at end of the second half.
87' - Manchester United substitution: Varela off. Matteo Darmian on.
87' - Carrick has a brilliant shot from the edge of the box which just goes wide of the goal.
83' - Goal for United! Martial is the man once again who scores a good goal from a poor angle. Herrera gets the assist for the goal with a brilliant cross. The home side needed that badly. 1-1.
82' - West Ham substitution: Carroll off. Enner Valencia on.
79' - Yellow card for Antonio for a late challenge on Scheinsteiger.
76' - Double Substitution for Manchester United: Fellaini and Rashford off. Bastian Schweinsteiger and Memphis Depay on.
71' - Michael Carrick receives a yellow card for a late challenge on Lanzini.
68' - Goal for West Ham! Dimitri Payet takes the free kick and scores an absolute beauty which beats De Gea. Big task now for the home side to get back into it. 1-0 to he Hammers.
67' - Payet is brought down by Daley Blind just outside the box in a dangerous position.
65' - Payet runs into the box and goes down in the box under a challenge from Rojo, but the ref says no penalty.
64' - West Ham substitution: Emenike off. Diafra Sakho on.
61' - West Ham substitution: Winston Reid off. Obiang on.
61' - Rashford receives a good pass from Lingard and he take it past the defender before he is denied by the West Ham keeper.
58' - Kouyate receives a yellow card for a deliberate trip on Lingard.
57' - United win a free kick in a good position. Herrera has a shot from it and it's well saved by West Ham keeper Darren Randolph.
56' - A good cross from Herrera from the Free kick finds Martial who heads the ball, but it's blocked by the West Ham defence. The home side appeal for a penalty but the ref waves away the protests.
54' - Payet receives a yellow card for tripping Lingard. Free kick in dangerous area for United.
46' - Second half starts at Old Trafford!
16:51 - Both sides have had their chances to score, but missed all of them. Overall it's been a very even half and not one side deserves to be winning. Hopefully there will be goals in the second half. Stay tuned as we will be back in a few minutes with the second half.
45+1 - Half time whistle goes. Manchester United 0-0 West Ham.
45' - One added minute at the end of the first half.
32' - Marouane Fellaini receives a yellow card for tugging back Matk Noble.
27' - A brilliant move from the Reds sees Marcos Rojo get in behind the Hammers defence and the defender played a good cut back into the path of Herrera who puts his shot well over the bar. Good opportunity for the home side.
19' - United break with Martial taking on his defender and beating him and he put a dangerous cross into the box to were Ander Herrera was, but the midfielder put his volley wide of the goal.
18' - What a chance for West Ham! The away side break on the home side and Payet plays in Cresswell down the left, and the defender plays a good ball into the box to Emenike who somehow puts his header straight into David de Gea's arms.
17' - A good cross into the box from Varela goes to Marcus Rashford, but the strikers overhead kick goes well over the bar.
16' - Lingard has a shot from outside the box which goes just wide of the goal. Good build up play from the United players that set up the shot.
10' - Aaron Cresswell puts a fantastic cross into the box to were Carrol was, but the big striker puts his header over the bar. Warning sign for the home side to watch out for.
6' - Big opportunity missed from West Ham! Andy Carroll plays Emenike through on goal, but the striker puts his shot wide of the goal.
4' - Jesse Lingard has a shot inside the box that goes well wide of the goal after a good passage of play from the home side.
2' - Winston Reid receives a yellow card for a late challenge on Anthony Martial.
1' - Kick off at Old Trafford!
15:50 - Ten minutes to kick-off at Old Trafford. Both these teams will be hoping to join the other semi-finalists which are Crystal Palace, Everton and Watford. Big opportunity for both teams this year.
15:05 - West Ham United Substitutes: Adrian, O'Brien, Song, Obiang, Moses, Sakho, Valencia
15:04 - West Ham United Starting XI: Randolph, Antonio, Reid, Ogbonna, Cresswell, Kouyate, Noble (c), Emenike, Lanzini, Payet, Carroll
15:03 - Manchester United substitutes: Romero, Darmian, Williams, Schneiderlin, Schweinsteiger, Januzaj, Memphis.
15:02 - Manchester United Starting XI: De Gea, Varela, Smalling, Blind, Rojo, Carrick, Fellaini, Rashford, Herrera, Lingard, Martial.
14:47 - Team news to follow next from Old Trafford! Stay tuned.
14:45 - Hello everyone I am Brandon Sayer, and welcome to Vavel's coverage of today's clash between Manchester United - West Ham United in the quarter-final of the FA Cup at Old Trafford. These two sides know a big prize is at stake for the winners and therefore it should be a fantastic game with both teams really wanting to go to Wembley.
West Ham predicted XI (4-2-3-1) - Randolph; Cresswell, Ogbonna, Oxford, Kouyate, Lanzini, Noble, Obiang, Antonio, Payet, Sakho.
Manchester United predicted XI (4-2-31) - De Gea; Varela, Smalling, Blind, Rojo; Schneiderlin, Carrick; Lingard, Herrera, Martial; Rashford.
The key players to look out for during the match will be Anthony Martial and Dimitri Payet. Martial has struggled recently, but has so far scored 10 goals this season in all competitions and is the real danger man for United up front. For the hammers, it is not hard to see who is the main player for United look out for and that is Payet. Payet signed for West Ham from Marseille in the summer and he has settled so quickly, recording eight goals and seven assists in the Premier League.
The hammers head into the game with some positive news on the injury front with Victor Moses, Enner Valencia and Joey O'Brien back and ready for the game. Winston Reid is back in training so he might be a part of the squad. James Tomkins and James Collins will both miss the game against United due to injury. Hammers manager Slaven Bilic has confirmed that goalkeeper Darren Randolph will start the game this weekend.
In terms of injuries heading into the game, United have been getting a few of their injured players back recently. The latest returnee was Bastian Schweinsteiger who came on as a late substitute against Liverpool on Thursday. Antonio Valencia completed 45 minutes for United's Under 21's in their 1-1 draw against Liverpool on Friday night. The players who are still out for a while are Wayne Rooney, Luke Shaw, Ashley Young and Phil Jones. Juan Mata is suspended for the game after his red card against West Brom. Jesse Lingard set to return to the lineup after missing the game against Liverpool due to suspension.
Earlier on in the season, in December, the game between the sides in the Premier League ended in a frustrating goalless draw at Old Trafford. The game saw both teams miss so many chances and really was a game that could have gone either way. A repeat of that scoreline this weekend would mean there would have to be a replay at Upton Park.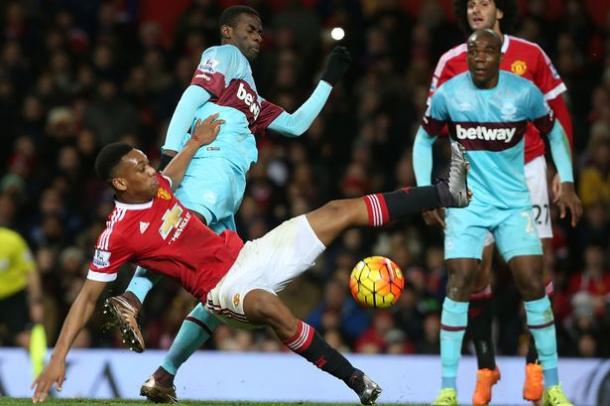 The form of both sides going into the game couldn't be more different. United have lost their last two games away at West Bromwich Albion in the Premier League and against Liverpool in the Europa League on Thursday evening at Anfield. The hammers meanwhile, go into the game on a real high after three consecutive wins the Premier League against Sunderland, Tottenham Hotspur and Everton. These wins for West Ham have seen them go above United in the league table to fifth.
Both sides safely negotiated their way through to the quarter-finals in the last round as the Red Devils won 3-1 away at Shrewsbury Town, while the Hammers won 5-1 away at Blackburn Rovers. Both teams will know the prize that awaits the winners of this tie as a trip to Wembley in the semi-finals is something both sides really want.
The FA Cup is a massive competition for both these teams this season as they go in search of a trophy. United haven't won the FA Cup since 2004, while West Ham were last in the final in 2006 when they lost to Liverpool.
Hello, and welcome to VAVEL UK's live minute-by-minute commentary of today's FA Cup quarter-final, with Manchester United hosting West Ham United at Old Trafford. Kick-off in Manchester is set for 16:00 BST, but stick with us before then, as we get team news and more ahead of the game.