Louis van Gaal after the draw against West Ham United in the FA Cup at Old Trafford praised the Manchester United players for their spirit after battling back to force a replay.
Van Gaal praises his team's spirit to battle back
United came into the game with West Ham a few days after a humbling defeat to Liverpool in the Europa League, and it looked like they were going to lose again after Dimitri Payet put the Hammers in front. The United players responded though and got an equaliser late on when Anthony Martial volleyed home whilst Van Gaal was happy with the way his team fought until the end.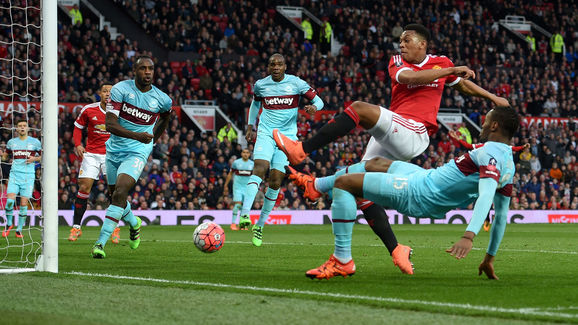 Van Gaal, speaking to the BBC, acknowledged that: "West Ham were the better team before they scored, but then we created chances too" as the team were determined to make sure that they got back into the game in what was an important game for the club.
Van Gaal says he's happy as his players were tired but kept going
The Dutchman continued to say that "it was a fantastic free-kick from Payet. I have to give a lot of compliments to my team" as the Hammers have been having a fantastic season and were never going to be an easy game. Van Gaal also praised his team for battling back especially after "they were mentally tired after Liverpool and also in the body".
Before the game with West Ham, the United the players only had two days rest due to the Liverpool game on Thursday while West Ham had a full week to prepare. Van Gaal, therefore, felt his players were fantastic with how they managed to cope with such a high-intensity game.
United's next two games will define their season
Van Gaal said "we have played a game against Liverpool on Thursday and they had the whole week to prepare and we could come back and show a big revival" and that shows that the players still do have some fight to try and improve results until the end of the season.
The FA Cup this year is the best chance of a trophy for United and Van Gaal, but they will now need to play even better in the replay as it will be away from home and the results this season haven't been very good. The fans and players really want to have a trip to Wembley to make up for what has been a poor season.
Speaking to Slaven Bilic after the game Van Gaal revealed that he "said the same, it was a fantastic match between two good sides and I am very happy that my team showed their spirit after a nasty week." The aim now is to continue the fight onto the next two games against Liverpool and Manchester City.