They have made a comeback to rival the one of Lazarus of Bethany. Lazarus wasn't a footballer and Bethany isn't a football club. In the Bible there is a tale that tells of how Lazarus was resurrected from the dead by Jesus, four days after this burial. This time last year, Leicester City, the football club, were dead and buried. Cut adrift at the bottom of the Premier League, there seemed little hope, and they were consigned to being relegated to the Championship.
They never saw it that way and rose from the dead. They haven't looked back. Midway through March, they are five points clear at the top of the Premier League. It is a footballing miracle. They keep on going, they keep on producing results and they show no signs of letting up. This is a fairy tale, and the majority of football fans in Britain want to see a happy ending.
This Leicester team have been a revelation. They are a bunch of journeymen, including their manager. They are a bunch of rejects, yet they have somehow come together and connected in such a way that they are putting every illustrious club beneath them to shame.
They haven't assembled a squad for sums that would wipe the debts of certain third world countries. There are no airs and graces. They don't feel a divine right to be in he Premier League, let alone win it and that is what makes this resurrection so special. Nigel Pearson did the hard part in keeping them in the top tier last season. Claudio Ranieri, the eccentric, original 'tinkerman', has taken them to the brink of greatness. Without much tinkering.
Every neutral fan, and many from the big teams will be cheering Leicester on as the finishing line approaches and the 'giants' keep falling by the wayside. Manchester United have been probably the disappointment of the season, along with Chelsea, but Arsenal and Manchester City with the talent at their disposal have been atrocious too. The opportunity to win the league this year was there for the taking and only Tottenham Hotspur seem up for the challenge.
Take nothing away from Leicester, but the big teams have shown such a gutless attitude this season that come the summer there could be a lot of 'star' names being shipped out. If Leicester win the title, then their players could well be the replacements. So who, from these miracle makers, could make the step up if and when the 'establishment' come knocking. Could any of them improve Manchester United? It couldn't be that hard.
Kasper Schmeichel
No. It is the only position in United's team that would be hard to improve. David De Gea is consistently proving he is one of the best goalkeepers in the world. Unless the Real Madrid deal got resurrected, United will not be looking for a number one. However, should anything happen with De Gea, then Schmeichel would not be a bad short term signing. He will always live in his Dad's shadow, but he showed promise in is early career at Manchester City and like many others at Leicester has found a home.
He is a good shot stopper, is vocal, he commands his area and it is probably only his lack of height that stops him from being considered elite class. Unlikely he will follow his legendary father though.
Danny Simpson
When he started his career at United, he looked an excellent prospect. His problem was a certain Gary Neville. He was always going to have difficulty in replacing the England full back, and after a number of loans he finally joined Newcastle United on a permanent deal. He did well for Newcastle, but after four years was sold to Queens Park Rangers. He helped them win promotion to the Premier League before moving to Leicester at the start of last season.
He is a steady player. Tough tackling, but has has a lot of energy and can get up and down the pitch. He is a little rash in the tackle, but overall a good player and would not look out of place in a top side. He would only be a back up though. United have Matteo Darmian, Antonio Valencia and Ashley Young and the emergence of youngsters like Guillermo Varela and Donald Love mean United won't come calling a second time.
Wes Morgan
Of all Leicester's success stories, he has to be up there as one of the best. He has spent most of his career outside of the Premier League, mainly with Nottingham Forest. He is a player that will give 100% effort, and is a tough and committed centre back. However, he has very limited ability but he embodies the Leicester spirit.
He will not be moving to Manchester United any time soon, but he has performed magnificently and has been so effective by knowing his limitations. He does nothing too silly, just clears his lines and he has played a huge part in Leicester's meteoric rise.
Robert Huth
It is ironic that Ranieri took over as manager, as the Italian signed Huth in 2002 as manager of Chelsea. Huth didn't quite establish himself under Jose Mourinho, but he played enough times to earn two title medals during Mourinho's first spell. He is tall and strong, and back then was very athletic. It is a surprise that he was allowed to leave, and more of a surprise that Middlesboro were the team to take him.He moved to Stoke City, and formed a great partnership with Ryan Shawcross.
When coming back from injury he was allowed to join Leicester on loan. This co-coincided with last years great escape, and he joined permanently in the summer. He is probably the biggest reason for it. He is one of the most underestimated defenders around. He would improve United. He is 31, but he has leadership qualities and they are non existent at United. Wes Morgan is surviving in the Premier League because of Huth. He would only be a sort term option, but he is in the mould of Nemanja Vidic, and United have badly missed him. Chris Smalling has come on leaps and bounds, but with Huth alongside him, he would improve even more. Highly unlikely, but Huth could cut it.
Christian Fuchs
Another journeyman, but another gem signed on a free transfer from Schalke. He is 29, but is an excellent left back. As with all the Leicester players, his work rate is prevalent, but he has a great left foot. He played an exquisite ball through to Jamie Vardy for Leicester's goal against United at the King Power this season, and he has a great cross on him.
His is captain of the very useful Austria side, and will be seen in the European Championships in the summer. United have a need for his experience, but with Luke Shaw, Daley Blind, Marcus Rojo and the outstanding talent in Cameron Borthwick-Jackson, there is no need for a left back.
Marc Albrighton
Albrighton is a talented player. He broke on the scene with Aston Villa, but could never quite bed down his place in their side. When you look at the position of Villa and how Albrighton plays for Leicester it is difficult to understand why not. He is technically good, has the engine to get up and down and does his job. Which is why he is effective.
He gets into positions and crosses the ball. Nothing too fancy, though he has skill, he just delivers and has popped up with the odd goal or two also. His tracking back and supporting of his full back is essential to the way Leicester play. United will not be in for him though. They have wide players, but despite the majority being awful, if United do look to splash out their sights will be on the likes of Gareth Bale.
Danny Drinkwater
He could easily be Michael Carrick's replacement. He is not an exact replica, but he dominates the midfield area for Leicester and is a good passer of the ball. He is an old fashioned midfielder in the sense that he does the defensive work, but will bust a gut to get forward. No sitting, no holding, just honest box to box play.
He has a lot of ability, but that is not surprising considering he came from United in the first place. After expensive outlays in the summer in midfield, it is unlikely United would look to Drinkwater. If Louis van Gaal remained in charge, it probably wouldn't suit the player either. All that energy, but unable to expend it?
N'Golo Kante
What. A. Player. This boy has been an absolute revelation. Every time you watch Leicester, hardly a moment goes by without him being involved. He is everywhere. He can tackle, run, pass almost do the lot. He seems to allow Drinkwater to take over in the final third, but he looks a fantastic player. He is only 24, and Leicester picked him up for around £5.6 million from Caen. It looks a snip.
As with Drinkwater, would United allow him freedom to roam, or would he be confined to the centre circle? Morgan Schneiderlin was signed as a defensive midfielder and looked an excellent acquisition, but he seems stifled. Kante looks a real player, and he could well improve United. The only concern is this is his first season. Cheick Tiote looked awesome when he arrived at Newcastle, but has gone stale. Maybe he needed a move. Kante will be in demand in the summer, and United should be in the hunt.
Riyad Mahrez
This guy is sensational. Leicester signed him from the French second league from Le Harve. The fee was undisclosed. Whatever they paid, it is a fraction of his value now. Would he improve Manchester United? He would improve most teams. Juan Mata is a lovely player, and a nice guy, but Mahrez and Mata are like chalk and cheese occasionally. Mahrez has every bit of skill as Mata possesses, but he does things at pace and is so direct.
He has 15 goals already, but he has so much to his game. His vision, pace, and trickery make him elusive and at 25 years of age he is going to be in high demand. United could do a lot worse than signing him to come off the right hand touch line, or play in behind a striker. Lets face it they have done a lot worse. Leicester will be a victim of their own success, as it is unlikely they will keep hold of this huge talent.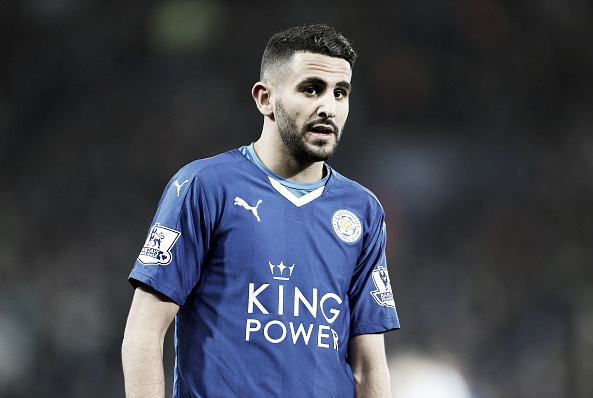 Shinji Okazaki
He wasn't exactly plucked from obscurity having been around the Bundesliga for a few years, but he didn't get signed from Bayern or Dortmund either. Leicester paid Mainz around £7m in the summer and he has been a fantastic foil for Vardy. Again, fitting into Leicester's retro 4-4-2 formation, he is somewhere between a Paul Dickov and a Carlos Tevez. He runs himself into the ground. He doesn't give defenders any peace.
At 29, he is probably not going to get a big move and is not someone that United would have an interest in. Leicester will be glad, because he is another piece that fits well in their jigsaw. He hasn't been prolific, but he is a menace and he does score crucial goals, like the one against Newcastle to win the game.
Jamie Vardy
Or Roy Race, which ever you prefer. Vardy's rise has been every bit as remarkable as Leicester's, if not more so. He equaled the Premier League record of scoring in 10 successive games and is joint top scorer. He is now and England international. All this from non-league. Incredible. If Okazaki works hard, then Vardy is not far behind. His pace is electric, but he doesn't stop and is not afraid to put himself about.
Playing on the shoulder of defenders, he is hard to stop when he gets played in, and the Leicester team know it. As soon as they get possession, they hardly need to look up as they know Vardy will be off. He is the icing on the cake for them. Like Okazaki he is 29, but he could well still get a big move due to his explosiveness. United would be a better team with him. He can lead the line alone, but the pace he has unnerves even the best defences. Wayne Rooney is not gone, but both Marcus Rashford and Anthony Martial have time on their hands, as does James Wilson. Vardy will have suitors in the summer, without doubt.
Several would have an immediate impact at United
Mahrez, Kante, Vardy and Huth would improve United immediately. They would provide pace, creativity, work and organisation. The only questions would be price, and who would make way. It is not unreasonable to think United could sign all four players for less than £100 million, in fact possibly a fair bit less. Compare that to what has been spent over the past few years, and it is an attractive proposition. As for who goes, the list could be extensive.
The summer is a long way off, and between now and then every one of the Leicester players are not playing for a transfer but for immortality. If one of the big teams produces a late run or if, as everyone has predicted, the wheels finally come of the Leicester wagon it won't stop every single member deserving the highest praise. It would be a crying shame if they lost it now though, because they are so deserving.
The sad part is whether they are champions or not Leicester will have to rebuild. The chances of them holding onto their stars are remote. If it's not United then someone else will cherry pick their magnificent players.