According to the Daily Mail, five Premier League sides were present for Stade Rennais F.C.'s weekend clash against Olympique Lyon. The Ligue 1 match ended in a 2-2 tie with goals coming from Rachid Ghezzal, Alexandre Lacazette, Fallou Diagne, and Rafael da Silva (OG). However, the main reason the Premier League sides were in attendance at the Rennes' match was to scout French wonder kid Ousmane Dembele.
Manchester United, Arsenal, West Ham, Southampton, and Stoke City all had scouts in the stands and were understood to be paying attention to only one player, Dembele. The 18-year-old has had an impressive season so far by tallying up a total of nine goals in 21 matches (15 starts) for the Rennes side.
Although Premier League sides have shown interest in the young striker, they will have to compete with other clubs throughout Europe for Dembele. It is understood that Barcelona had offered £27 million for the Renne's striker.
United scout Ousmane Dembele
French National Team head coach Didier Deschamps said, "People have talked about him to me for two years. We'll say that he should be left in peace. Before his hat-trick [against Nantes], he did other things. He's quick, he has two feet, he can play in three positions in attack, and he's only going to improve". Deschamps continued saying, "It is too early? It all depends on the competition, but obviously I'm watching him."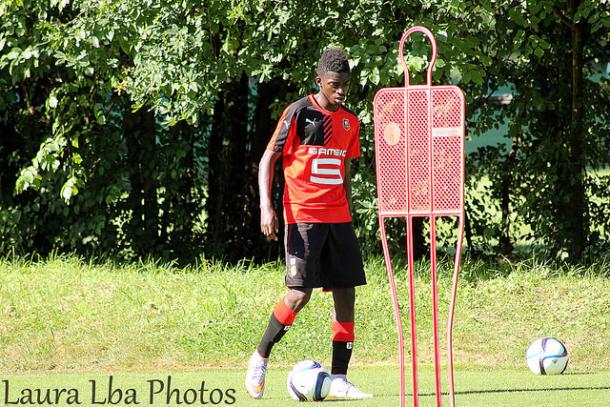 Ousmane Dembele joined Stade Rennes back in 2010, where he participated with the side's youth system. This season is the 18-year-olds first year with the senior side. Dembele scored his first goal on his full debut on November 22, 2015, in a 2-2 draw against Bordeaux. In addition, the French striker recorded his first hat-trick on March 6th against Nantes in the Derby Breton.
Dembele attracting attention from plethora of big clubs
In addition, the report claims that Juventus, Atletico Madrid, AC Milan, Wolfsburg, Cologne, Bayer Leverkusen, Malaga, Espanyol, Fiorentina, Celta Vigo, Nantes, and Lorient all represented at Roazhon Park during Renne's most recent 2-2 draw against Lyon. However Dembele wasn't the only French striker being scouted, reports claim that clubs had their eye on French striker Alexandre Lacazette, who scored his 15th goal of the season for Lyon. Stoke, Southampton, and West Ham were all understood to have interest in the striker.
Manchester United have expressed great interest about Ousmane Dembele as of late, but it has been reported that Bayern Munich and Barcelona are the frontrunners for the 18-year-old. Rennes should expect a flood of bids this summer. With Manchester United still trying to find a consistent goal scorer, the young French striker could easily come into Old Trafford and provide another goal threat for the United side.