Ander Herrera has denied suggestions that the Manchester United players didn't show any passion in the first leg of their Europa League last 16 tie defeat at Anfield.
Herrera denies that the team gave up against Liverpool
United were well beaten by Liverpool 2-0 last week and now face an uphill battle to try and overturn the result at Old Trafford. A lot of people slammed the United players for not trying but Herrera dismissed talk that it was a gutless performance from the United players in front of the Kop.
Herrera in response to the claims that the United players didn't try against Liverpool said: "I don't agree. We always fight. We always try to win" and just because the result wasn't very good the players know they can fight back in the second leg.
The Spanish midfielder continued to say "everyone has to respect us on that issue. We always fight. We want to win always and we are very proud because we are Manchester United players" and that means until the tie is fully finished the team will give it their all to improve the result.
Performance levels will have to improve, says Herrera
United came into the tie against Liverpool last week after winning all four games against them under Louis van Gaal but the performance just wasn't right from the players during the game. Herrera therefore, knows it will take a big effort from the team to turn it around but believes it is achievable.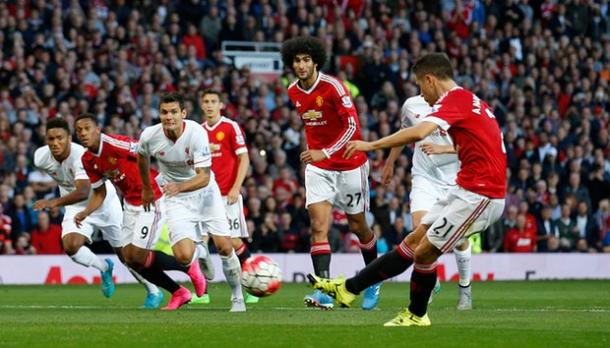 On the team's performance in the first leg, Herrera said: "when you have a bad game and you are disappointed you don't have to think too much about what happened" and go out and show that it was a one off and give the Old Trafford faithful something to cheer about.
Herrera asks the fans to spur them to victory at Old Trafford
Herrera says that the United players "feel stronger when we play at home. We will have more fans at home" as against Liverpool the fans raise the noise a lot more than they do against any other team. The Spaniard says that "we have the best fans in England and they will be very important".
The key for United players to try and overturn the first leg deficit will be to try and get an early goal to try and get nerves going in the Liverpool camp and Herrera says that "we don't need to go crazy. We just need to score the first goal. It's important we don't concede because we will create chances".