Manchester United manager Louis Van Gaal insisted that he is proud of his team despite their 3-1 aggregate loss to bitter rivals Liverpool in the UEFA Europa League.
It was always a tough ask with United going into the game at Old Trafford looking to claw back a 2-0 deficit against the Merseyside club, but van Gaal remains positive after yet another setback in a disappointing season for the red devils.
The Dutchman said: "I am not angry, I am not frustrated. I was very proud of my players, they have given everything and I was pleased that the fans also recognised that."
Anthony Martial's first half penalty looked to give United some hope in the tie, but Phillip Coutinho's smart finish just before half time made the improbable task for United nigh on impossible.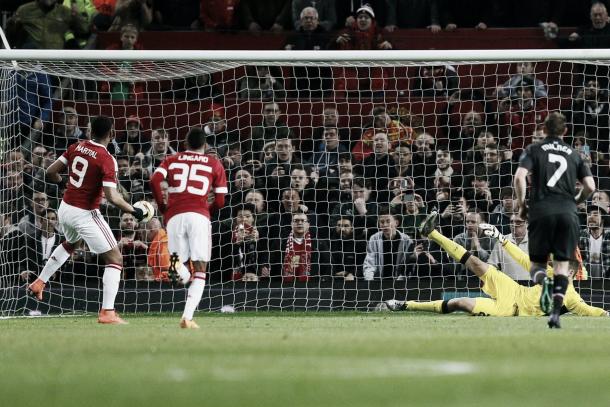 Van Gaal positive
With United already behind by two goals many would have thought van Gaal would have adopted a more attacking approach, granted the red devils created numerous chances on the night, but his insistence on playing Marouane Fellaini as well as making defensive substitutions left the United fans frustrated.
Van Gaal continued: "We have played like Liverpool did in the home match (at Anfield) against us. We have created a lot of chances in the first half, we scored a penalty. Jesse Lingard, Juan Mata, Fellaini and Martial all had chances."
Next up City
The result means LVG is under great pressure going into United's next match on Sunday against Manchester City, who the reds are battling for fourth place with.
The United boss has accepted that United must win that game at the Etihad stadium in order to salvage their season.
He said: "I hope City is the catalyst. We have to beat City and we have a chance to still qualify (for the Champions League). The expectations are high, and we can cope with that."
United fans will certainly be expecting an improved run under van Gaal, particuarly with an FA Cup quater final replay to come against West Ham United, which remains United's last shot at finishing the season with a trophy.