They say Louis van Gaal is a lucky manager. It may be true, but his time in charge of Manchester United is coming to a close, and luck will not define his time in charge. The only luck he seems to have had is in the form of a novice Chief Executive that is desperate for van Gaal to spark life into United and achieve some sort of 'success'.
Van Gaal has been lucky to keep his job
Any other manager at any other club would have been sacked by now. When United lost to Stoke City in December, speculation was rife that the free agent Jose Mourinho would fill the Dutchman's boots sooner rather than later. Ed Woodward and the United board ignored the clamour for van Gaal's head. Since that time United have suffered some awful defeats, but the odd victory kept United on the cusp of a Champions League place, and in the Europa League and FA Cup.
Whilst there is still the whiff of a successful end to the season, it seems van Gaal will survive. That whiff is getting fainter. Going out of the Europa League has left one chance of a trophy and the unlikely fourth place finish as the only things to play for in a hugely forgettable season. It is pretty certain that van Gaal will manage to get to two thirds of the way through his contract, but it should come to an end in the summer.
If - and it is a massive if - United win the derby on Sunday, then once again fourth place goes back on the agenda. It is a pipe dream though. Just like the FA Cup. Can United beat West Ham United in a replay? Yes. Can they beat Everton in a semi final? Yes. Would many people bet on that happening? Probably not. Maybe the most diehard fans, or those with money to burn.
Van Gaal's United have no backbone. They haven't got any fight, any leadership and they possess limited quality. They cannot win four or five games in a row. They were assembled at a huge cost, but quite frankly the system they have been asked to play in has not worked. Unfortunately when a new man comes in and presumably changes the system, many of these players will not survive because they are just not good enough.
The two games against Liverpool are defining. United have played worse than they did in the second leg on many occasions. There was some huffing and puffing in that match, but not much else. In the first leg, it was utterly shocking. They were clueless, but it was the lack of effort that made the performance so much worse. Liverpool outran United, and in the final third had much more quality on display.
Van Gaal stated after the second leg that the fans at least recognise that the players gave their all. Really? Jürgen Klopp's Liverpool are not Barcelona, they lie below United in the table and are no great shakes. When Klopp gets some money, a lot of their current playing staff will be packing their bags. They were miles better than United, yet they only possess two or three top class performers. They were there for the taking, but United weren't good enough. If that was United giving their all, then things are worse than they seem.
In both games, it took the introduction of Bastian Schweinsteiger for United to have somebody on the pitch representing a true, established United player. He provided quality that was badly lacking. In the second leg he also did something that probably hasn't been seen all season when it comes to taking a yellow card. He actually got a proper one. With Adam Lallana bearing down on goal, and Schweinsteiger helpless to stop him by fair means, he hit him hard with a tackle and took one for the team.
It showed fight and intelligence. The majority of United's cards are for petty fouls in stupid positions for no real reason. It epitomises the attitude and character of the current United player. The youngsters can be excused. Anthony Martial, Marcus Rashford, Guillermo Valera and Jesse Lingard are United type players, but not established ones. You expect dips in performances, you expect the odd mistake but they are young and talented. And they at least look like they are interested.
Moyes' signings are not United players
Van Gaal is heading for the exit door, and two players who are left from David Moyes' tenure should be first out with him. Moyes' high profile signings in Marouane Fellaini and Juan Mata are two players who have really failed to justify their extortionate transfer fees. In the two games against Liverpool, they were nothing short of pathetic. They contributed nothing between them, and were a waste of space. You could argue that Fellaini dished out an elbow to Emre Can and Dejan Louvran over the two games, but that is non-league park stuff.
Fellaini took a lot of stick for being Moyes' only signing in his first summer, and a lot of it was unjust. However, despite showing signs of promise early on in van Gaal's reign, and the occasional game where he looked like the nuisance he was at Everton, he has faded into oblivion. You cannot miss him due to his size and hair style, but those are the only things that make him stand out. He provides nothing in midfield, and nothing more when pushed up front. He has to go.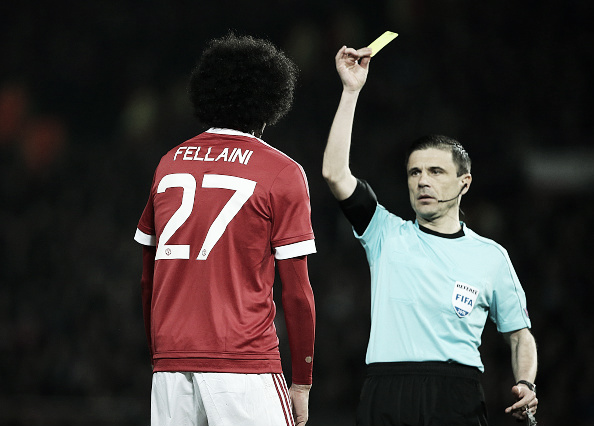 Mata is a decent player, and has quality, but he shows it in the odd game. He cannot be relied upon to conjure up something special. He is a luxury player, and when he is not 'in the mood' then he offers the same as Fellaini. He can't tackle, and he must be one of the slowest players in the Premier League. When he plays out on the right flank, you get more penetration from the full back. He has to go.
It is not just those two, but they are the players that normally give 5/10 performances and occasionally put in an 8/10 performance. One issue you may have is getting rid of them is their price tag. They would have to be sold at a knockdown price, because nobody would pay what United paid for either of them. They can perform, but they don't for United and they are the first two that should be sent packing.
Michael Carrick still possesses a huge amount of quality. He is United's best passer, still. But he is 34 and whether he should get a new contract is up for debate. Schweinsteiger can do what Carrick does, and it could be that this great servant is not required by whoever takes over. Then again, Morgan Schneiderlin hasn't really set the world alight. That may be down to van Gaal, who despite signing him doesn't seem to trust him. Maybe if the shackles were off he can turn out to be a good player.
Many players could be shipped out
Phil Jones can't be blamed for anything this season, because yet again he hasn't got off the injury table. His career is really in the balance due to has lack of fitness, and his saving grace has been how poorly the team have performed in his absence. Lingard deserves praise for his attitude, as he gives his all every game. He is a contrast to Memphis Depay, who seems to have a bit of laziness about him and has really had a poor first season.
However, Depay is more likely to be kept as the thing that lets Lingard down is his quality. Lingard has popped up with a few goals, but he has got into some great positions on numerous occasions this season and been wasteful. He is industrious, but he would not have got anywhere near as many appearances in bygone days. Depay has made as many errors leading to opposition goals as he has put in the right end. When he has put in the odd performance, albeit against poor opposition, he has looked very good and for that reason he will probably get more opportunities.
It is a big problem for whoever comes in to decide who to retain, but tough decisions have to be made. Daley Blind is a good player, as is Marcus Rojo. Would either of them have got in ahead of Nemanja Vidic or Rio Ferdinand? Not a chance, but the likes of Mikael Silvestre and John O'Shea stayed in the squad for a long time and did a great job. Both Blind and Rojo are certainly at that level, but United don't have Vidic or Ferdinand alongside them. You can look at most positions and say the same.
It is easy to keep harping on about the good times, but that is the barometer that the current crop have to be measured against. Until United get a number of genuine world class players to compliment today's average bunch, then they are going nowhere. There isn't a leader to organise, nobody that can tackle, the quality is really poor and the only ones that give effort in every game have generally come through the ranks.
Van Gaal has had some more luck this season. David De Gea's transfer to Real Madrid fell through on deadline day last August. If it hadn't then he may well have been sacked a long time ago because De Gea has saved United time and time again. He might need replacing too, because he may not want to hang around for more mediocrity.
Van Gaal normally leaves under a cloud, normally leaves after winning trophies and his successor normally reaps the unseen benefits of van Gaal's hard work. It seems that for once, and probably the last time he will just leave under a cloud, and a few others with big reputations may well follow.