Chris Smalling, speaking to MUTV after Manchester United were knocked out of the Europa League, said that the timing of Liverpool's goal just before half-time was crucial to the game ending as a contest.
United came into the game at Old Trafford trying to overturn a 2-0 loss from the first leg at Anfield and they got a goal in the first-half to get back into the tie when Anthony Martial scored a penalty.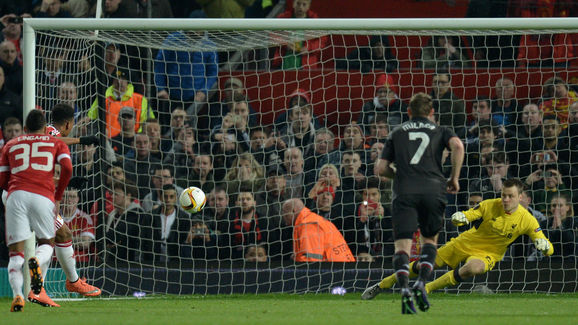 Coutinho's goal was crucial, says Smalling
The key then for the Red Devils was to continue to try and get another, but Phillipe Coutinho got a crucial goal on the stroke of half-time to kill off the game. Smalling said the goal dealt a huge blow to the confidence of the players.
Smalling says that the team "believed if we started well, we could put them under pressure" as that was going to be the only way they could get back into the game. The goal from United did start to put pressure on Liverpool and Smalling says "you could see they started to crumble".
During the game though you could see that Liverpool's game plan was to counter attack, and Smalling says it "was unfortunate we conceded just before half-time because we had a real battle on our hands". The second half was poor as a result of Coutinho's away goal and it was a pity as there was a serious battle to be had.
Smalling says the tie was lost after the first leg
Smalling was disappointed to be knocked out by United's biggest rivals and was annoyed at how big a task that they had given themselves after a dismal performance in the first leg. Smalling did say though that the team gave it their all to try and turn it around but it was too much of an ask.
The English defender said that "the damage was done in the first leg. We all knew we gave ourselves far too much to do" and with the team having to go for the win it left to many gaps for Liverpool to exploit as without an away goal in the first leg it almost certainly killed any chance of a comeback.
Smalling says Manchester Derby is a must win
Attention now turns to the Manchester Derby on Sunday, and Smalling says that the "aim is simple we have to win at Manchester City on Sunday to close the gap in the table" and to do that it will take much better performances than what the team has been producing recently.
After the Manchester City game on Sunday, there is an international break, and Smalling says that the team "want to make sure we go into the international break on a high". The game is a big one for manager Louis van Gaal as he will want to see his team start to turn the bad results around.