Is there some unwritten rule in football that says elite football clubs must pay Jose Mourinho bucket loads of money? He seems to bound from one football club to the next getting a sizeable pay off each time he moves on. He is now possibly going into new territory. Getting a club to pay him even if he doesn't manage them.
Reports from Spain suggest that Manchester United have agreed a pre-contract with Mourinho for him to potentially be the next manager, and that prevents him from talking to other clubs. However, if United don't take up the option of his services by May 1st, then the 'Special One' allegedly receives a special £5 million. If by June 1st United still haven't officially employed him, he gets another £10 million. Mind boggling.
United's hierarchy are 'winging' things
It really shows how mis-managed United are right now that it has come to this. Mourinho is a free agent and, despite his spectacular demise at Chelsea this year, he would not be short of offers. It makes sense that United would be interested, given that the team have performed so poorly under Louis van Gaal this season. The question is, why a pre-contract? If United want to stop Mourinho talking to other clubs, then why don't they just hire him once and for all? What are they dithering about?
It's like having a 1973 Porsche Carrera RS, but an unreliable one, and getting an opportunity to swap it for a 2009 Ferrari 599 GTB Fiorano that delivers every time. The old classic that doesn't work, or a new classic that does. You wouldn't offer the Ferrari owner a retainer while you make your mind up, and tell them that they can keep it if you decide you don't want the car, would you?
When United started to flounder at the end of 2015, crashing out of the Champions League and losing a lot of ground in the title race, the Mourinho to United bandwagon started taking shape. It was felt that if United were to save their season, drastic measures needed to be taken. That feeling seemed to emanate outside of the club. Inside, van Gaal was going to be backed. It was an understandable reaction.
Van Gaal has been well backed
Van Gaal had been given a lot of money and would now be afforded time to turn around this 'sticky patch'. After giving David Moyes less than a season in charge, it would not have looked good if the board were to sack a second manager when he was only half way through his contract.
Results did improve. January brought three league victories, including one at Anfield, though that was followed by a home defeat to Southampton. Every time there looked like there was a revival, there was a bloody nose. Defeats to Sunderland and Midtjylland seemed to seal van Gaal's fate. Yet, he has a habit of getting off the canvas too. Marcus Rashford's introduction brought a feel good factor back for a while.
The exit from the Europa League at the hands of Liverpool really should be the last straw. The performance at Anfield was totally gutless and totally unacceptable. The home game could have brought about a recovery and a night to rival any in the clubs history, but they went out with a whimper.
Van Gaal is yesterday's man, and if the reports are true United have taken decisive action. A pre-contract. Maybe we will employ you Mr Mourinho, we are certainly interested. Or maybe we will just give you a lot of money. What on earth are United waiting for? Do they want to see if van Gaal can secure a Champions League place? Would that represent success? Would the board feel that was progress?
History repeating?
Is an unlikely FA Cup win going to save him like it did Sir Alex Ferguson back in 1990? If United manage to get past West Ham and Everton, they may well face Crystal Palace in the final. Perhaps Ed Woodward and co. believe that rather than history repeat itself in the form of Sir Matt Busby's retirement and United enduring years in the wilderness, but with an FA Cup victory over Palace bringing the good times back.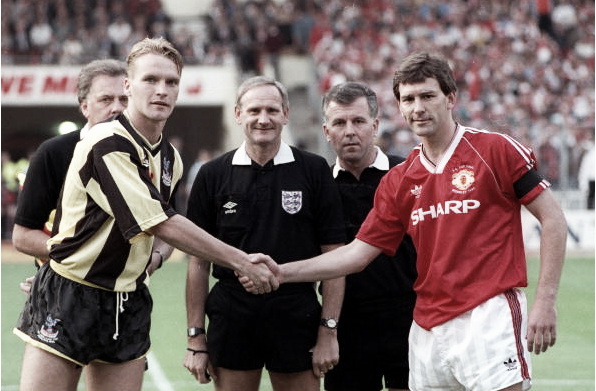 It is almost as deluded as some of van Gaal's recent comments. This pre-contract makes no sense. It doesn't end any speculation, merely fuels more. It seems to suggest that it will be Mourinho, rather than Ryan Giggs, who will succeed van Gaal if the decision is made to dispense with the Dutchman. It doesn't explain what they are waiting on though.
If van Gaal did manage to get a top four position, and did win an FA Cup, there would still be a huge sense of under achievement. A victory over City in their own back yard has enhanced their chance of climbing the table into the money positions. For every derby win, there is a Bournemouth defeat around the corner. For every Anfield victory, there is a Norwich defeat.
It is clear that the board are hoping that van Gaal does have a great end to the season. Maybe a Champions League place is enough, maybe an FA Cup win is enough or maybe only both can save van Gaal. The board are playing a dangerous game though, because another season of van Gaal will leave the natives more than restless. Keeping van Gaal risks having the fans turn nasty.
It is as much about the football being played as the poor results that have made the fans turn against van Gaal. The team can perform, as they did at City, but not with anything like the consistency that is demanded. More investment is required, but are the board really going to trust van Gaal with it?
The truth will no doubt come out in time about a pre-contract or not, and in all likelihood Mourinho will be riding in to take on his old adversary Pep Guardiola to be top dogs in Manchester and England. Unfortunately for Pep, he does not have a pre-contract so he has no choice but to come!