Louis van Gaal is eyeing a fourth place finish after seeing his side win the Manchester Derby at the Etihad Stadium to move within one point of Manchester City in the Premier League table.
Van Gaal says he is confident United can catch City
Van Gaal saw his side win the match 1-0 thanks to a goal from Marcus Rashford in the first-half and that meant Manchester United gained a crucial three points in their aim to reach a top-four finish. Van Gaal, therefore, is confident that City can be caught before the end of the season.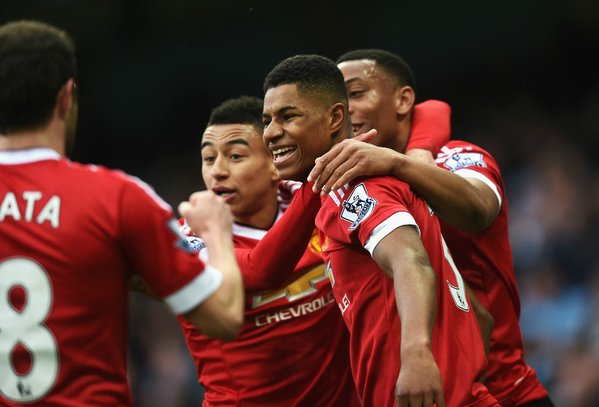 When asked how big a win this could be for the team going forward, van Gaal reminded that "I have said this is a must win game" and the team won so "I'm happy". A loss would have put a big gap between the two teams. The gap before the game was four points and for van Gaal, a loss or a draw would have meant it would be "very difficult" to catch City.
The key now is to keep up the momentum after this big win as the Dutchman says "each club has eight games left" so we must make sure "we win our games" as that's how you can put the pressure on City to see how they will respond to it. Van Gaal thinks it is important that United have "five home matches left out of eight" that are home matches which is an advantage "as [United] don't lose often at Old Trafford".
The Derby win will give the players a lot of confidence, says Van Gaal
The big thing that a derby win will do for the United players is that it will give them the confidence going into their remaining games believing they can overhaul City. Van Gaal revealed after the game that he could see that the players were very happy with the win and now they believe they can do it.
On the reaction he seen from his players in the dressing room after the win, van Gaal said "I have seen the dressing room after the match and it was fantastic" you could see "the happiness" on their faces as they had to put in a lot of work to get a massive win and it will also give them huge confidence going forward.
United now need to back up Derby win
The players now will go away to play for their international teams for the next two weeks and it will give them a chance to go away and get themselves fresh for when they return. United play Everton at Old Trafford after the break and the win against City will only mean so much if they can back the win up with another.