Manchester United manager Louis van Gaal says that he was 'proud' of how his side performed in their 1-0 win over local rivals Manchester City.
The Red Devils bridged the gap between themselves and the top four to just a single point thanks to Marcus Rashford's 16th minute strike, which separated the two sides at the Etihad Stadium.
Top four finish still a possibility
United's Champions League hopes remain alive after ending a four-match winless run, and van Gaal admitted that the win in Sunday's derby was an important one for his side.
Van Gaal told BBC Sport, that his side played 'a very good first-half' thanks to Rashford's goal, as well as the way his side managed to limit the chances Manchester City had on David de Gea's goal.
The Dutchman also believes that his side started the second period well, and that they had to 'fight until the end' after tiring from only having 72 hours rest following their midweek clash with Liverpool in the Europa League.
Van Gaal pleased to close the gap
Manchester City played out a goalless draw on Tuesday night in their Champions League second leg with Dynamo Kiev, which gave them two extra days rest to their cross-city rivals. Van Gaal reminded members of the press about the 48 hour difference, before saying how 'proud' he was of his side following the victory.
The manager claimed that the three points were 'important' to allow his side to keep pace with West Ham United, whilst also decreasing the gap to the top four down from four points to just one.
Van Gaal continued on, saying that the lack of Thursday fixtures for the remainder of the season will be a 'positive thing' as his side look for a strong finish to the campaign.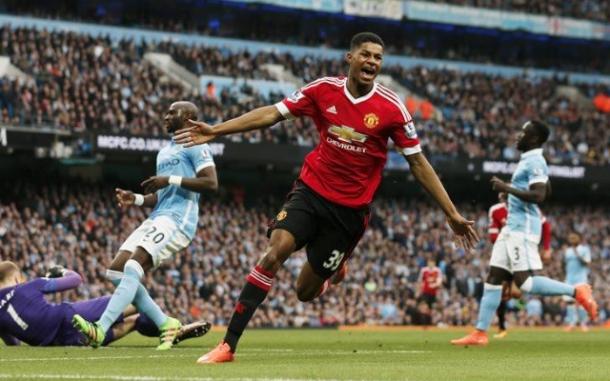 Compliments for Rashford
Marcus Rashford is one of the players that van Gaal has introduced into the first team, and the manager can take full responsibility for giving the youngster his big break.
The 18-year-old scored twice against Arsenal on his Premier League debut, and has now scored a winner in the Manchester derby, which has pleased the Dutchman.
He described Rashford as 'very quick' and said that 'Demichelis looked like the years are catching up with him,' after the young United striker had given him the runaround, before Manuel Pellegrini had no choice but to substitute his centre-half before the hour mark.