Daley Blind speaking in an interview Dutch newspaper NOS says that he has enjoyed playing centre-back for Manchester United this season and feels he's been consistent.
Blind says he likes the added responsibility of playing at centre-back
Blind who was bought my Louis van Gaal in with summer of 2014, has played in a number of different roles since he has been at the club. During this season, though, with the amount of injuries that United have had in central defence, Blind has played the majority of his football as a centre-back and Blind says he likes the added responsibility.
The defender speaking on his role as a centre-back at United said "I'm developing well, and in the big games I've played well" as he has been one of the standout players for the team throughout the whole season. Blind feels he has been "consistent" to show he can do whatever job he is given to do in the team.
The Dutch defender also feels he can still play at "left-back and in midfield" which gives the manager multiple different options. Blind thought says he feels "good at centre-back" as it allows him to see the game "in front of me" which he wants so he can make the long passes he is so good at doing.
Blind says he likes to see the game in front of him
Blind despite playing as a centre-back for a large part of the season, has scored two goals and has three assists in his 46 appearances so far this season. Blind makes up for what he lacks in the physical part of the game with how well he can read different situations says he likes to start attacks for his team.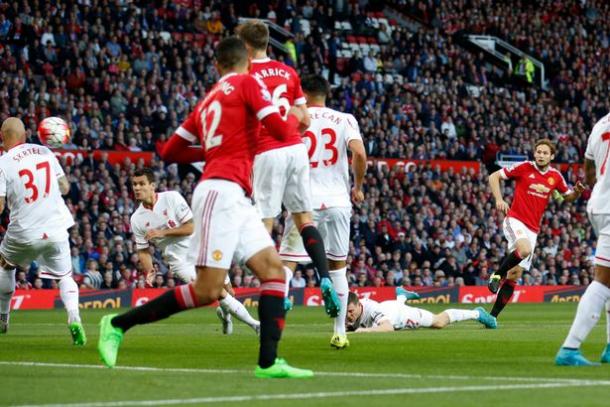 On many occasions, this season Blind has been praised for his range of passing that he processes and Blind says playing at centre-back helps him even more as it allows him to "build attacks from the back" which he does with a lot of "forward passes to start attacks".
Blind and Smalling have helped United keep the most clean sheets this season
Blind has formed a fantastic relationship with Chris Smalling at the back for United which has seen the club keep 13 clean sheets this season which is the most in the Premier League. Blind now will play two friendlies for his national team against England and France over the international break.