Former Manchester United and France striker Louis Saha has told MUTV that Anthony Martial reminds him of the same qualities that Thierry Henry possessed at a similar age. Martial, 20, who was viewed as a long-term prospect, has made an immediate impact in his United career - and Saha believes that he will only get better.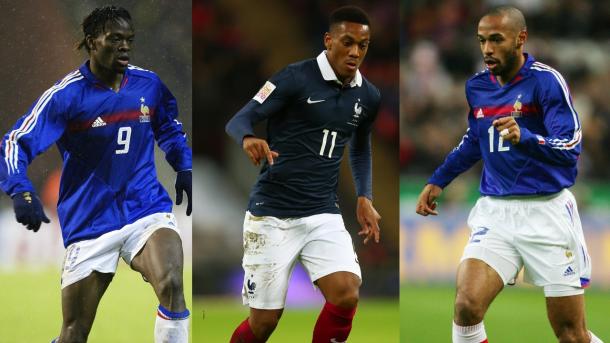 Martial has "as much quality as Thierry Henry"
When asked if there was a comparison between the young star and the French legend, Saha was quick to agree. The retired striker stated, "he has as much quality as Theirry Henry at this age."
Stating that while, "he needs to be more precise," in order to truly be like Henry, Saha was also quick to praise Martial and his commitment, saying that "he is willing to improve."
He also praised Martial for how easy the game comes to him from "being on the ball [and] being strong," to "getting important goals," and most importantly "being able to play week in and week out."
United must challenge Martial to get complete package
Saha also stated that while as good as Martial has been this season - he is the first player since the legendary Christiano Ronaldo to score in five separate competitions in a season while wearing a United kit - he can be even better but only as long as the team challenges him to do so.
Saha believes that because "the team hasn't been performing consistently," if a few players improved to Martial's level then, "it would be even easier for him."
Saying that the best players need to challenge themselves, Saha believes that, "it may be good to have more strikers who will really challenge him," like Saha had at United with van Nistelrooy, Tevez, Rooney, and Ronaldo. "When you play around them you have to really perform," Saha stated, imploring United to "find [them] as quickly as possible."
Martial, who was signed for £36 million in the summer, has made 39 appearances for Manchester United this season, scoring 12 goals. He has thus far been capped six times at the senior level for France.