He played his whole career for Manchester United, making 963 appearances, and in the process became the most decorated player in the history of British football.
When he decided he wanted to go down the road of football management, then you could expect that he would be in high demand. A lot has happened since he took up a coaching role under David Moyes, but despite vast change at United, nothing changes for Ryan Giggs.
United continue to struggle to move on from the Sir Alex Ferguson era. Moyes did not last a season, rightly or wrongly, and Louis van Gaal has not been able to deliver any success in terms of trophies. He may do before the season is out, but even an FA Cup win may still not save him from the axe. It is possible that United could appoint a fourth different manager in the summer, just three years after Sir Alex left the post.
Giggs, of course, has also spent time in the hot seat finishing off the solitary season that Moyes oversaw. The extremely hot seat. The seat that is quickly becoming a poisoned chalice. It appears there are three roads United can take in the summer. There are many options of course, but the most likely are to keep van Gaal, appoint Jose Mourinho or appoint Giggs himself. In each scenario, Giggs would be a massive influence.
Giggs and van Gaal
If United choose to keep van Gaal, then the status quo remains. Giggs is the assistant to van Gaal and he appears to be very happy with his role. It seems to have taken a while for Giggs to start to publicly exert himself, but recently there have been signs that he wants to put his head above the parapet.
When United lost 1-0 at home to Norwich City in December, they were in an awful run of form. Successive league defeats, the exit from the Champions League and on top of that some awful football had fans up in arms. One of the criticisms towards van Gaal is that he does not show passion, but merely sits and scribbles notes throughout a game. Against Norwich, he did the same. Giggs seems to have taken van Gaal's lead in that respect and normally stays at the Dutchman's side, but midway through the second half he had seen enough.
He stood up, went to the touchline and began trying to change the course of a game that was slipping away. Ultimately it had no impact, United still lost, but it showed that Giggs is finally starting to come out of his shell. He has got up on more occasions since then, he has started to do a few more interviews, and it has been said by van Gaal himself that he is getting more responsibility.
When the board overlooked Giggs as the permanent replacement to Moyes, the plan was for him to learn from van Gaal with a view to taking over when he retires. Assuming van Gaal stays in the post, then Giggs will do a third year in the assistant role and no doubt gear himself up as next season draws to a close in preparation for what is becoming the hardest job in football. If van Gaal has managed to win a trophy, and ideally the league, then Giggs will be pretty grateful that some pressure will have been released.
Giggs and Mourinho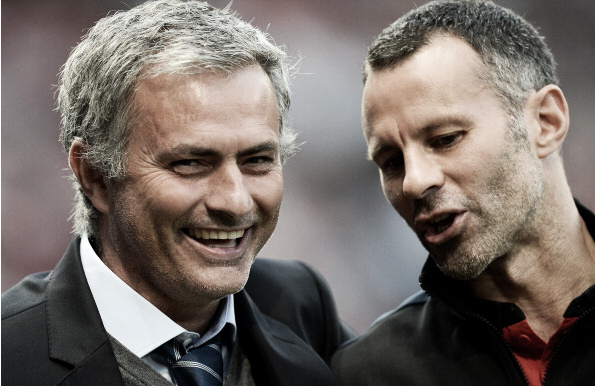 After Pep Guardiola to Manchester City was announced, the next 'worst kept secret in football' was splashed all over the media. Jose Mourinho has allegedly signed a pre-contract to succeed van Gaal, and that will be the most likely outcome if van Gaal is sacked. Taking the decision to sack van Gaal is obviously something United are still hesitating on, hence the pre-contract that suggests a lot of money will go in Mourinho's direction should the club decide to overlook him once again.
Assuming he is brought in, then it would be folly for him to decide against Giggs as his assistant, and folly for the club to allow him. In truth, Mourinho would want Giggs for sure. Wherever he has gone, he has always kept a 'club man' as his assistant. Continuity - if there is such a thing at United these days - is important. Nobody, not even Sir Alex or Sir Bobby Charlton, knows the club better than Ryan Giggs.
Although both are Directors, they have not been involved in the football side for some time (Sir Bobby never in a management capacity at United). They would certainly be fantastic soundboards for Mourinho, but only Giggs would know the characters of the current bunch of players in the wake of van Gaal's departure. He would, of course, still have an insight into what (or who) drove United to success in the not-too-distant past.
Mourinho may have concerns about Giggs being the heir-to-the-throne, but he is a big enough character to ignore that particular story. Mourinho is fiercely loyal to his players (until this year) and staff, and he would well be aware of the clubs stance, and Giggs' ambition. That wouldn't be a problem, although that follows the assumption that Mourinho is a 'three-year' man.
If he were successful enough to warrant an extension on any contract he signed, then turning his back on United would not be easy. He is young enough to go on for another 10 years in management, but there is enough speculation before he has been given the job, so predicting what will happen in two or three years time is pointless. If United want Mourinho and Giggs, then somehow they will find a way to make it happen.
Giggs the Gaffer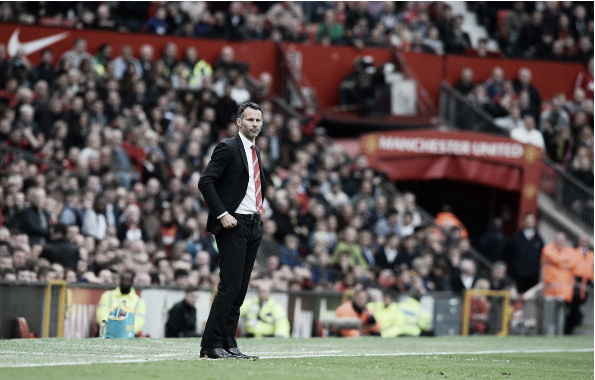 Giggs looked like he was born to play football, but in his brief time in charge of the team, he looked like he was born to manage also. He looked the part whether he was in his tracksuit - he was still a player at the time - or whether in his club suit. His demeanor in his interviews was calm, confident and he speaks an enormous amount of sense, as you would expect. If van Gaal or Mourinho command respect, then so does Giggs. He would have no trouble attracting players.
He is quietly spoken, but behind those beady eyes, there is a steely determination. His style was to have a watching brief, but when he felt it necessary he came down to the touchline and observed at close hand. There was quite a bit made of his touchline foray against Norwich, with some fans suggesting he was trying to put a nail in van Gaal's coffin. A ridiculous notion.
If van Gaal feels there is nothing to be gained from being out on the touchline, then Giggs may well have listened and followed suit. However, there couldn't be a United fan in the world that didn't want to scream and shout at the players on that day, though, and Giggs is no different. He is United through and through.
If van Gaal fails to get a Champions League place or win the FA Cup, then the situation is a grim one. A novice manager is not what is required in such a situation, but this is not any novice. If that is the situation then two vastly experienced managers will have failed dismally. Bringing in Mourinho would be the logical solution, given that he almost always delivers trophies, but even he is no guarantee.
What you would get with Giggs that nobody could else could offer is nearly 30 years experience at that football club. He joined United as a 14-year-old, and United were in a much worse situation than the one they find themselves now. He has seen United grow into the corporate monster it is now, but it grew as a result of what happened out on the football field and he was an integral part of that.
He has spoken this week about how youth will always come to the fore, and although van Gaal has shown he is fully committed to bringing young players through, so would Giggs. What may differ from van Gaal, and even Mourinho is that the football would not be pragmatic, it would be attack based. If Giggs could not prevent a Guardiola domination, or repel the challenge from multiple clubs, then it wouldn't be for a lack of fight.
Giggs cutting ties
There is one last scenario that every United fan should dread. The one where Giggs decides to finally fly the nest. If he gets no guarantee that he will eventually take over the manager's job at United, and the right offer came in from outside then he could well decide that it was time to show his worth. That could be the end of his association with United full stop and would be as sad a day as when Sir Alex called it a day.
Bryan Robson and Roy Keane were both touted as successors to Sir Alex, but both enjoyed very limited success. Steve Bruce and Mark Hughes have proved they are fantastic managers, but their success has not garnered any trophies. Keeping your head above water is an achievement in itself, but the truth is that when you become a manager the likelihood is that at some point you will be sacked. When that happens, you are unlikely to get the opportunities at a job like United.
Mourinho has been sacked, twice in England, but he has always left his mark and a league title. Occasionally a European one. Unless Giggs was able to find a club where the board were realistic with their expectations - Southampton for instance - then he would have to pull off a Leicester style miracle and take an unfashionable club to the point of greatness.
That would not necessarily be beyond him, but Giggs' disadvantage is that he has only ever known one club. For that reason, he would probably be prepared to continue his apprenticeship a bit longer. He was touted for the Swansea City job earlier this season, and if he does take flight, then he will have no apron strings to cling to.
United have one of the most crucial decisions in their history on the horizon. Giggs' future is possibly at the heart of any decision, but there is nothing in his past to suggests his future will not follow in the same vein whatever the outcome