Three Manchester United players started during the England and Holland friendly at Wembley Stadium. Chris Smalling started for England in the 2-1 defeat to Holland, while Daley Blind and Memphis Depay started for the winning Dutch side.
Smalling was solid for England
Smalling started once again for England after starting the win over Germany at the weekend and once again showed his class in defence. Smalling came up against some tricky Dutch attackers but when he was called on he muscled them out the way to dominate them. Smalling is trying to stake his claim to start for the England at the Euros and he will do himself no harm if he keeps on putting on solid performances like he did over the last two games.
The defender was substituted on the 71st minute for Phil Jagielka and wasn't on the pitch when the Dutch got their winner.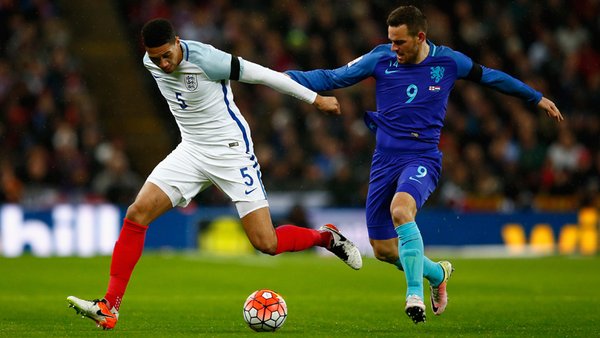 Blind shines as captain
Blind started the game as captain for Holland and played really well throughout the game. Blind played as a centre-back, where he has been playing all season for Manchester United. The defender came up against one of the most in-form strikers this season in Jamie Vardy and he gave the striker very little to go on. Blind was very calm on the ball all night and once again showed why he is so important to his club and country.
Blind should have been man of the match for his accomplished performance. Hopefully he will continue his good form into United's next game at the weekend versus Everton.
Memphis still struggling with confidence
Memphis got his big chance to start at Wembley for Holland and try and show what he is made of by putting in a good performance. Unfortunately, Memphis struggled throughout to do much and looked a player lacking any confidence. The Dutch winger did show a couple of glimpses of what he could do with his trickery but overall he kept losing the ball and he looked really frustrated throughout.