Speaking ahead of this Sunday's match against Everton, Manchester United boss Louis van Gaal has stated the he sees it as unlikely that either Luke Shaw or Bastian Schweinsteiger will feature again this season due to injury. Both players now face fresh doubt on if they will be fit in time to represent their countries in time for the Euro 2016 tournament.
Shaw progressing, not ready
United have been without the services of Luke Shaw since he suffered a double leg fracture against PSV Eindhoven in the UEFA Champions League in September. He has been slotted to return to training next week after fears that he would be out for close to a year, but Louis van Gaal has tempered fans expectations.
While stating that on Monday he would be "back on the training pitch for the first time," the United boss qualified that it would be with "the physio," and not "with the trainer coach."
Whilst giving credit to the work that Shaw has already done "in the gym, on the treadmill, in the swimming pool," van Gaal stated that he did not see the fullback being fit in time to "play the final of the FA Cup."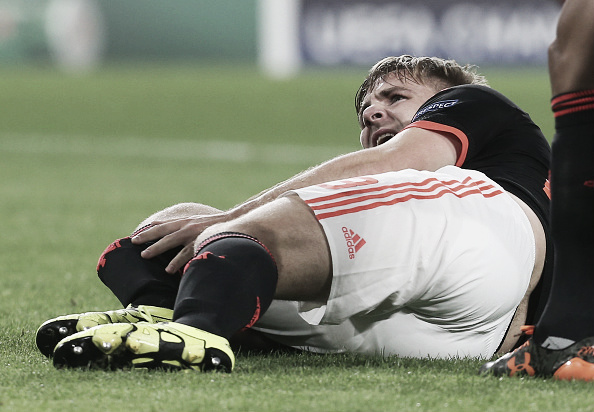 Schweinsteiger injury a 'blow'
Speaking on Bastian Schweinsteiger, who was injured in training while with the German squad ahead of a friendly with England, van Gaal was reluctant to cast a firm timeline on the return of his midfield general.
Stating that he couldn't rule him out due to him already starting his rehab, van Gaal said that everyone would have to "wait and see."
Van Gaal called Schweinsteiger's injury "tragic," not just for United but for the German national team as well. Van Gaal related that he was sure Joachim Löw "wants him to play," just as much as Schweinsteiger wanted to, and that he hoped "he can reach that," while finishing that "it may be difficult."