Manchester United manager Louis van Gaal has revealed that the injury which caused Daley Blind to come off towards the end of Sunday's match against Everton is not serious, and will only cause Blind to be rested for a few days before resuming normal training. Blind came off in the 82nd minute after appearing to pull a hamstring after another great performance at centre-back.
Blind was 'at the end of his strengths'
In his post-match press conference, Louis van Gaal revealed that after the international break and featuring in almost every single one of United's matches this season that his make-shift centre-back was, "at the end of his strengths." Normally a defensive midfielder or wing back, Blind has started most every game for United as a centre-back this season.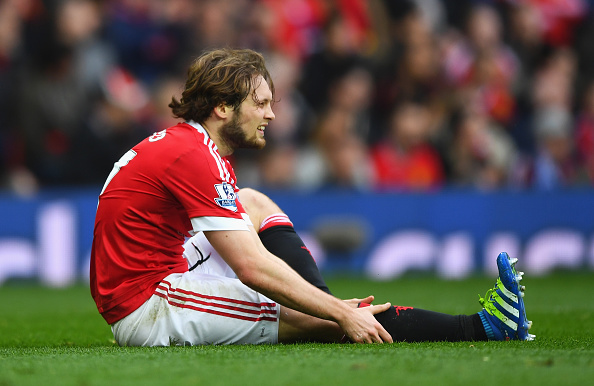 Van Gaal spoke of the importance oh his utility player in stating "Daley Blind has played every match this season," but because of this, the player was "at the end of his strengths." Van Gaal did reveal the pure athleticism possessed by the newly deputized Dutch captain by saying that he would only need "two days off this week," and then after that "he is okay again."
Mata praises Blind
Spanish international Juan Mata was also full of praise for Daley Blind, not just for his performance in the past match, but all season. The midfielder praised both "Chris Smalling and Daley Blind," for giving United consistency at the back "all season" and that the entire team was "very happy with our defenders."
Blind was at his best again on Sunday, helping United to a clean sheet against Everton. Everton as a whole was held to only two shots, one on target while the entire attacking line of the visitors registered not a single shot. United are next in action against Tottenham in the Premier League on Sunday, April 10.
---
Related to this:
Manchester United Player Ratings as they honour Sir Bobby Charlton in 1-0 win - Everton
Louis van Gaal pleased after Everton victory, despite poor performance