There was fanastic news for everybody at Manchester United this week, as Luke Shaw has resumed training on grass for the first time since the horrifc leg break he suffered last September against PSV Eindhoven.
Unlikely to feature again for United this season
Despite Shaw already being able to train on grass after his nightmare double leg-break, Manager Louis van Gaal has revealed that Shaw is 'Unlikely' to feature again in United's remaining games of the season, which could include an FA Cup Final on 21 May.
The 20-year-old full back has been doing work on both a treadmill, and in the swimming pool for months now, and on Monday morning resumed training on grass for the first time. The fact that Shaw most likely won't be able to compete for the remainder of the season really shows the large extent of the injury, that there is still a long way for him to go, and the fact that United and Louis van Gaal don't want to rush him back into action having suffered such a huge setback at a very early point of his career.
United career so far
Since joining the club in July 2014, Luke Shaw has been hampered with all kinds of different injuries that have stopped him from making such a huge impact like he did down the left for Southampton in previous seasons.
At the start of the 2015/16 season, Shaw was one of Manchester United's most effective players as him and another exciting young prospect, Memphis Depay, developed a really strong connection both on and off the pitch to help United to a very strong start in the league. Since this shocking injury to Shaw, Depay has also struggled for consistant form and to keep his place in the starting 11, would the return of Shaw help him to gain a more consistant run of form? Only time will tell.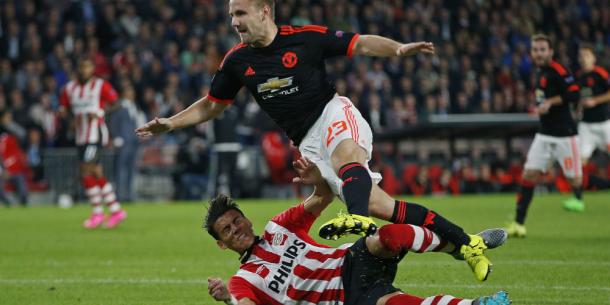 Shaw's international return
With Louis van Gaal confirming that Shaw is unlikely to return before the end of the season, he can also most certainly be ruled out for the Euro 2016 Championship with England. The left-back had six England caps all taking place in the space of 18 months prior to this injury, including a very good performance against Switzerland, winning 2-0, just weeks before his injury. Shaw looked destined to be a certain starter for England coming up to this major tournment in France.
Despite all of these injuries, Luke Shaw is defiently one of the most talented youngsters avalible for both Manchester United and England, and once fit could be a very good weapon for both sides down the left side for many years to come.