It has been a surprisingly superb season for Daley Blind after Louis van Gaal moved his fellow Dutchman to central defence at the start of the campaign. His partner Chris Smalling says he's a "joy to play alongside".
Blind is naturally a midfielder but has most commonly played at left-back and centre-back for United since moving from Ajax in 2014. In fact, he is yet to play in midfield this season for the Reds. He's been vital in their solid defensive record, the second best in the Premier League behind Tottenham Hotspur.
Smalling praises "very sound" Blind
There was huge surprise when van Gaal announced his decision to move Blind to centre-back and at first criticism was large and fans and media looked for errors and looked for the first mistake. It is still yet to come. Smalling has been thankful for his passing ability and said it's "great knowing he is naturally a midfielder" because it means "he has that passing range" as well as the "ability down to a tee". Despite being a midfielder, Smalling described him as "very sound" in defence too.
Van Gaal, for all his faults, has hugely improved United as a defensive unit and Blind has been key to that, he "brings a lot" to the United defensive line "in being able to play the ball our and cut through teams."
Blind impressing all season in unnatural position
Even with a great season under his belt, he has received the adulation that even Smalling himself has and the English defender says his partner "deserves more plaudits," and "if he carries on playing the way he is playing," he'll get those plaudits. "He's keeping up ticking," said Smalling.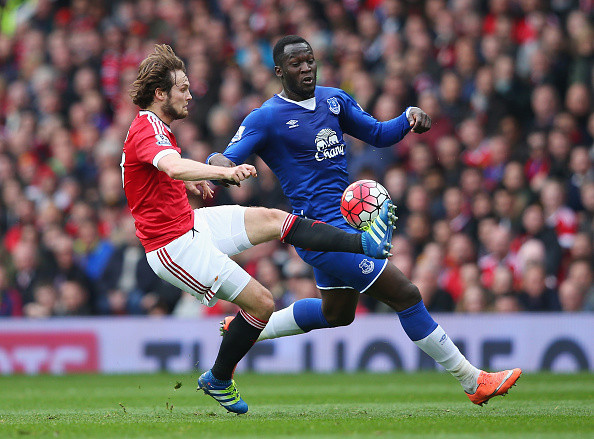 Blind's best performance of the season came last Sunday when he dealt perfectly with one of the most dangerous strikers in the Premier League, Romelu Lukaku, who has been linked with United recently. Blind, like United legend Rio Ferdinand, allowed Lukaku a yard of space due to his physicality but consistently beat him in battles for the ball.
"It's a good partnership," described Smalling, because as a pair "they know [they] can rely on each other. When there is a situation you don't have to over cover because you don't trust your partner."
Blind is "a joy to play alongside" according to Smalling and "by each performance, he is putting any critics out there to bed" because he's "been one of the top centre-backs this year."