Ever since being called up to Manchester United's first team in February, 18-year-old striker Marcus Rashford has impressed players and legends all across the world. Most recently, fellow strike partner Anthony Martial has commented on the young striker's success.
In an interview with France Football, Martial commented on the 18-year-old saying that "[t]here's good young players" at United currently and Rashford is one of those that "has benefitted from the injuries of other players". Louis van Gaal "gave him a chance, and he took it," scoring twice on both his debut and league debut.
Martial praises new partner Rashford
"He's played really well, and already has five goals - I'm happy for him. When I played as a nine, sometimes I didn't score - I hope Marcus will continue to score and help us win," Martial added.
Martial isn't wrong about Rashford's recent form. Since making his senior debut, where he scored two goals, against Midjylland in the Europa Leauge, the striker has scored five goals in nine appearances.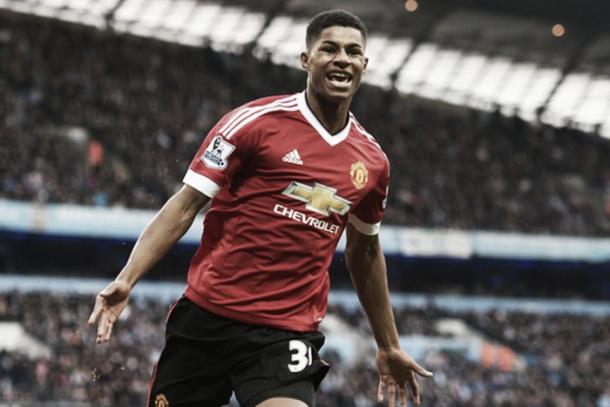 Rashford has scored five in nine for Reds
In addition, Rashford continues to shine as Manchester United announced that the striker was the club's Player Of The Month, with 56 percent of the fan votes. Meanwhile, Memphis Depay brought in 31 percent of the votes and Jesse Lingard recorded 13 percent.
With Wayne Rooney set to come back from injury soon, a scary question going through everyone's mind is, will Rashford lose minutes? With Manchester United fighting for a Champions League spot, it might be useful to play someone with experience in the upcoming competitions. However, Rashford's hot form is hard to dismiss. Louis van Gaal will have a lot to think about before United's next match against Tottenham.