Star Manchester United forward Anthony Martial has refused to get drawn into the rumors and controversy surrounding who is going to be the manager next season, instead focusing on repaying confidence that has been shown to him by Louis van Gaal.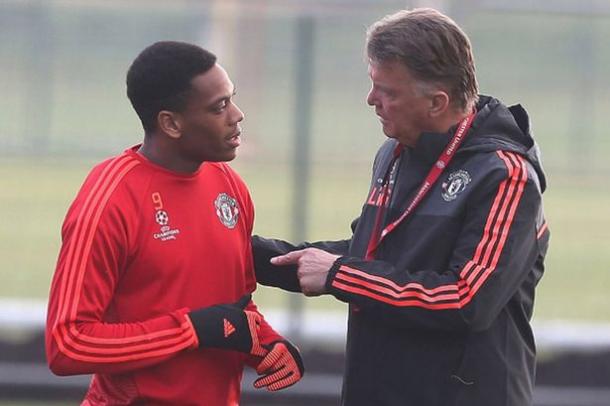 Not concerned with rumors
With the team surviving through a current rough up-and-down campaign, rumours have been swirling for months that Louis van Gaal's time in charge of the Red Devils is short. Recent months and weeks have seen a surge of rumors stating that Jose Mourinho is shortly to be appointed as the new manager, with reports even indicating that he has already signed a pre-contract.
None of this matters to the prolific forward. Speaking to French Football Martial was non-plussed, stating that "as long as the current coach is there," that he doesn't even "think about it." Continuing on, he stated that if "Mourinho must arrive, he will arrive," but for the time being, Louis van Gaal "is still there."
What matters is repaying confidence
Martial, who arrived from AS Monaco in a £36 million steal in the summer, has enjoyed a massive first campaign with the team and is enjoying every second of it. He credits van Gaal.
Martial says that while every coach will have "their good and bad sides," at the end of the day van Gaal has "given [Martial] a lot of confidence," and that he must "try hard to pay it back to him."
He is also very grateful for his move to England, saying that he is "having a blast," and that he "loved this league," and it was "the one I always wanted." He went on to praise the quality of players and emotion of the Manchester Derby, recalling that "every footballer dreams of playing in this type of match." Most important of all, however, was the fact that "there was a victory at the end."