Speaking on Sky Sports Now with Matt Le Tissier current Stoke City, and former Liverpool midfielder Charlie Adam claims that Manchester United have lost their fear factor at home since Sir Alex Ferguson left, and that teams no longer fear going to Old Trafford.
While United certainly haven't been as successful in recent years, do the numbers actually show this?
"Clubs confident" they can beat United
Adam claimed that, "the fear factor has dipped in recent seasons" and that a big reason behind that was, "Sir Alex Ferguson leaving." He continued on to claim that as Ferguson was, "a big presence at the club," and also, "in English football," that the lack of the Scotsman has lead, "a lot of clubs going to Old Trafford," and being, "confident that they can beat them."
He did concede that after a woeful slump mid-season that, "they [United] are in the mix right now," and that they, "will give it a right go."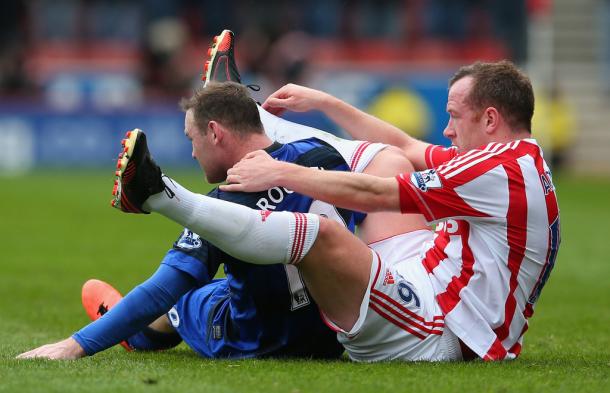 United are not given credit for home form
Old Trafford was known as a fortress of sorts when Sir Alex Ferguson was in charge of the club, with United consistently being ranked in the top two in the league in terms of home record. In Fergie's last two seasons in charge the club produced an astonishing record of 31 wins, two draws, and five loses. In David Moyes sole season in charge of the club, the team finished ninth in home form with nine wins, three draws, and seven loses.
The story under Louis van Gaal, however, has been different. In the Dutchman's first season in charge the team stormed to a record of 14 wins, two draws, and three loses. While this was only good enough for third in the league's home form table, it was immediately comparable to the team's form in the 2011/12 season, when it was 15 wins, two draws, and two loses for first.
In the current season, on home form, United are ranked as second in the league at nine wins, four draws, and two loses. While this certainly isn't as imposing as the years of Ferguson, it is easy to forget that from 2000-2006 the team's average home form ranking was third in the league.
The perception may be that Old Trafford isn't as frightening as it may once have been, but the numbers simply don't play out that teams are coming and getting results.
It's United's away form that concerns them, and makes them underdog's for Sunday's trip to ever-improving Tottenham Hotspur.