Amid rumors that Manchester United are monitoring the status of the soon to be out of contract Swedish superstar, Louis van Gaal has potentially ruled out a summer move for current Paris Saint-Germain striker Zlatan Ibrahimovic due to concerns about his age. Van Gaal, while expressing admiration for the talents possessed by the outspoken Ibrahimovic, stated that he is focused on building a team around youth.
Focus is on youth at United
Van Gaal spoke about some of the challenges that his team is facing and where a potential move for Ibrahimovic lay. Stating that when he took over at United "we had six or seven players above 33 years old" and that United now has a "much younger team," he acknowledged the need for "creative players in attack and also fast players."
In regards to the talismanic Swede, van Gaal said that he "I cannot say anything on that subject," but pointed to the fact that "he is already 34," and how he had just spoken about the age of the players he let go, such as Robin van Persie.
None the less, Zlatan is 'unbelievable'
Louis van Gaal was quick to underscore the talents possessed by the charismatic Ibrahimovic, stating that "it is unbelievable what he is doing," and that he was amazed by his showing against Manchester City as "he should have scored two times at least."
Van Gaal further went on to say that "Paris Saint-Germain is Zlatan," and that is "fantastic." The notoriously team-minded van Gaal continued on to say that when "a manager like me" is "saying such things about an individual" that is it "a compliment for him."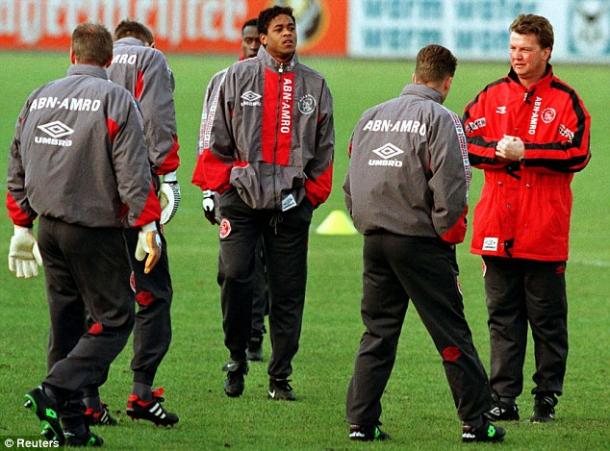 Zlatan and van Gaal still have personal issues
Amid all the talk, though, it can not be ignored that the player and van Gaal infamously had a falling out while both were at Dutch side Ajax. The tension was so high that after van Gaal had a hand in selling the striker to Juventus, van Gaal himself was forced out of the club.
Just as recently as 2015 Ibrahimovic admitted that he still had problems with a man he called "a dictator," in his autobiography. Saying at the time that "he was a director in Ajax" and that the way he works "is not the way I work."
Most importantly when he was pressed on if he would have a problem co-existing with van Gaal at Manchester United, he starkly replied, "Big problem."