For all Manchester United's struggles this season, there are some massive positives to have come out of it. No matter who is in charge when next season kicks off, they will have some talented youngsters to call upon. All of the debutants that Louis van Gaal as introduced have show great promise, but three in particular have been able to hold down a place after their introduction.
Cameron Borthwick-Jackson, Marcus Rashford and now Timothy Fosu-Mensah have been outstanding, so much so that they have shown up their more experienced colleagues. Borthwick-Jackson picked up an injury and has been absent since the defeat of Shrewsbury Town in the FA Cup. When he is fit, if Luke Shaw hasn't made a comeback by that time he should be pushing for his place back. He has been that good.
Rashford has exploded on the scene and has produced heroics. He looks so calm, almost as if he was born to play at this level. At least that was up until Sunday. Against Tottenham Hotspur he hardly had a kick and was replaced at half time by Ashley Young. He should not attract criticism, or have his ability questioned for an anonymous performance, because in all reality he shouldn't be playing so much. A dip in performance was bound to happen at some point.
Fosu-Mensah made his debut against Arsenal at home, and as a result of the headlines that Rashford commanded, he slightly went under the radar. After his performance against Spurs, one that was in stark contrast to that of Rashford, he may well be stepping out of the shadows rather quickly assuming the injury that forced him off is not serious. He was simply sensational, head and shoulders above any other United player, yet he was playing full back.
Fosu-Mensah has the build of a boxer
Whereas Borthwick-Jackson and Rashford are both lean and athletic looking, and both look as though a bit more weight would help, Fosu-Mensah certainly doesn't. He is not quite as tall, but he is stocky and looks like a middleweight boxer! He only turned 18 in January, so when he is fully developed then United could well have another Jaap Stam on their hands. Or do they?
Although he has only made two starts and a handful of appearances, he has already played in both full back positions, at centre half and had a brief spell in centre midfield. He has played in those positions in his youth career, and centre half is his 'preferred' or natural position, but he looks one of those players that can play anywhere. On Sunday he almost did. He popped up all over the pitch, with an all energy performance.
He made several blocks that Nemanja Vidic would have been proud of, he made surging runs, he overlapped well and he actually had a shot - something of a rarity for any United player. He may well be best suited to defensive work, but judging by his tackling and work rate then he could well be a star in the engine room.
Keane's influence in Kante's body
Roy Keane has never been replaced, and probably never will. The reputation Keane had was as a hard man, and there is a misperception that he went around the football field kicking people. Far from it. Keane dictated play and didn't really have to make many tackles as United generally dominated. When he did his timing was normally impeccable. He was cleaner in a tackle than his brother-in-arms Paul Scholes, because most of his red cards were down to red mist.
Fosu-Mensah can transform United's midfield. He may not be in the same mould as Keane, but what he has is energy, and a willingness to win the ball. His passing has been exemplary, and he looks like he is more than just a stopper. Rather than Roy Keane, he looks like someone who could well be on his way to a Premier League title medal in N'Golo Kante.
Kante has also been sensational this season, and there is probably no better player at breaking up play and bursting forward on the attack. He is a box-to-box midfielder, the sort that appeared to be extinct. Maybe that's on of the reasons that Leicester City are flying so high. Danny Drinkwater, his midfield partner, also goes box-to-box but doesn't have the energy levels of Kante. Fosu-Mensah could be United's Kante.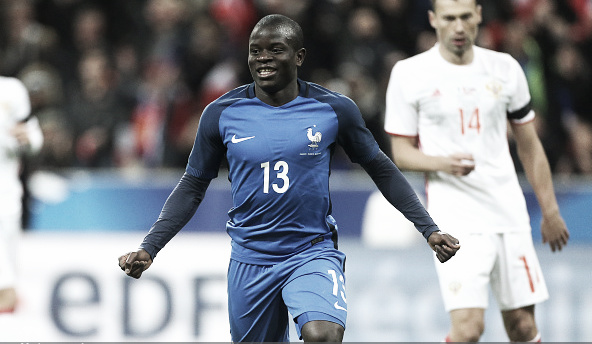 Senior players lack penetration
Morgan Schneiderlin, Bastian Schneiderlin and Michael Carrick control games in the main. They play relatively safe passes, and with maybe the exception of Schweinsteiger they do not really support any attacks. They do not go beyond their opposite numbers and as a result United pose little threat. It could be that they are acting on instructions, but if that is the case then it applies to Fosu-Mensah also, yet he popped up in places he had no right to be. Good on him.
There are young players at United that could rise to the very top. On the back of another lackluster season, then there will be big changes afoot, but whoever is in charge next season has to treat these talents as first teamers. They would be a fool not to. These boys will be alright, they are stars in the making and Fosu-Mensah could be the best of the lot.