After Manchester United fell to a 3-0 defeat to Tottenham Hotspur at White Hart Lane, Louis van Gaal still insisted that the Reds are still the bigger club.
Van Gaal apologises to Levy for taking United job over Spurs
Spurs swept United aside in a frantic six minutes spell in the second half with goals from Dele Alli, Toby Alderweireld and Erik Lamela. Despite the defeat, van Gaal was defiant about how big United are and even apologised to Daniel Levy for taking the United job over the Spurs job in 2014.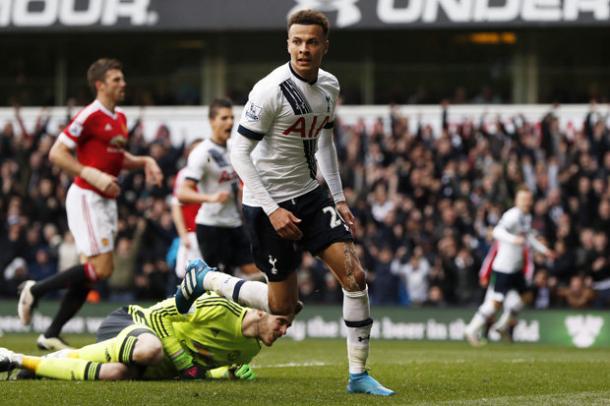 Van Gaal said in his press conference that he would also "like to sign for Tottenham Hotspur" back in 2014 and said that "Daniel Levy knows that". The problem, though, was that United came calling for van Gaal and the Dutchman says the "challenge was bigger at United" and they will "always be bigger" than Spurs.
Manchester United will always be bigger than Spurs, says van Gaal
Van Gaal went on to apologise to Tottenham saying "I am sorry for Tottenham" but for me "Manchester United will always be a bigger club". United, though, will have to sit back and watch as Spurs finish above them this season as the North London side deserve it for how well they have played all season.
The press were quick to question Van Gaal about United being bigger than Spurs after his side were humbled by them. The Dutchman replied saying "I think it is a little bit pathetic" that anyone would ask this just because "they have won 3-0" as it is the first time Spurs have beaten United since van Gaal has been in charge of the club.
Van Gaal still hopes for a top-four finish despite defeat
The defeat against Spurs has left United with it all to do to try and get a top-four place with only six games to go in the Premier League. Van Gaal, though, isn't given up hope just yet as he believes his players can still win every game left and accomplish their goal.
Van Gaal says that he is not given up "hope" on a top-four place because he believes that "every team can lose from everybody" which is true as this season there are no easy games.
Van Gaal will be hoping his side bounce back quickly as they go again on Wednesday evening against West Ham United in the FA Cup where he knows he needs to win a trophy if he wants to remain as manager.