Manchester United manager Louis van Gaal has praised the contribution of the side's younger players this season, ahead of the Red Devils' home tie with Aston Villa.
It was 18-year-old Marcus Rashford's stunning strike in midweek against West Ham which stole the headlines as United sealed their place in the semi-finals of the FA Cup.
Along with Rashford, multiple young players have been introduced to first team football this season and have been one of the shining lights in United's rather disappointing campaign overall.
On the youngsters, van Gaal said: "Manchester United believes in youngsters, as do I.
"This was also one of the arguments as to why they have selected me, so it's not new for me that it is happening. I'm very happy that we have the ability to pick up youngsters out of the academy."
Youngsters one of few positives
In a campaign that has seen van Gaal receive stern criticism over his management of the club, which has seen United bow out of Europe twice, fall well behind in the Premier League title race and currently clinging onto the chance of making the top four this season, he will insist the campaign does have its positives, and it will be hard to deny that the emergence of United's youth players is certainly that.
The likes of Timothy Fosu-Mensah, Cameron Borthwick-Jackson, Jesse Lingard as well as Rashford have all come into the side and played consistently well, often sparking life into the team, who's more seasoned players have largely failed to live up to expectations.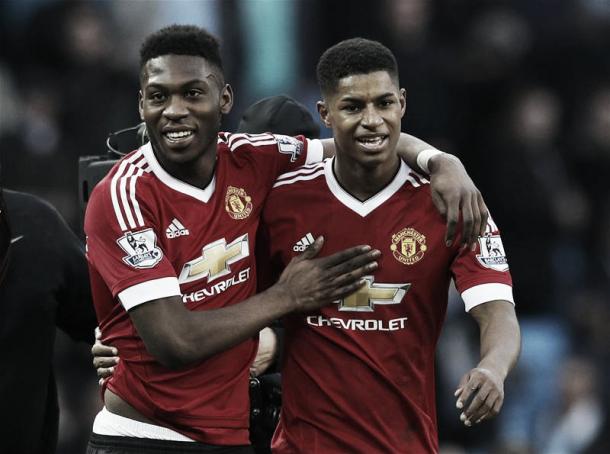 Rashford and Fosu-Mensah to continue
As they continue to impress it is likely that particularly Fosu-Mensah and Rashford will retain their places in the United line-up as they take on Villa at Old Trafford on Saturday. A game which could, in fact, relegate their opponents if United take all three points as expected.
With van Gaal's future at the club currently in the balance, it is a credit to him for giving the youngsters consistent opportunities in the first team, with that said whoever is in charge at Old Trafford next season is sure to prosper from the quality that has risen from the United academy.