In the summer of 2014, Adnan Januzaj had the football world at his feet.
He had not only broken into Manchester United's first team, but was probably the only positive in what was a disappointing season for the reds.
In addition, after a prolongued tug-of-war for his services intenationally, he had pledged his allegiance to Belgium, where he grew up. He was chosen to go to the World Cup finals, and made an appearance in the tournament in the group game against the Korea Republic.
Januzaj hasn't justified the hype
It is fair to say that after such a meteoric rise at such a young age, his career has not quite lived up to expectations. That said, whenever his name is mentioned these days, it is as if his career has already ended. It hasn't. He is only 21 years of age, and he is still an employee of Manchester United. When you consider that Jesse Lingard is really in his breakthrough season, and he is 23, Januzaj shouldn't be totally written off. However, just as 2014 was a high in his short career, 2016 can't get much lower.
He is generally utilised as a winger, and is very pleasing on the eye. He glides past players, and is in some ways reminiscent of Cruyff - Jordi, that is. Jordi Cruyff had a similar graceful, languid style and just drifted past players for fun. However, neither player were blessed with pace, and looking good is one thing but producing an end product is another. When it comes to goalscoring and creating goals, that is where the pair come up pretty short.
The way the 2013-14 panned out, culminating in David Moyes' sacking, was a double edged sword for Januzaj. If his performances were scrutinized, then apart from his full debut against Sunderland, where his fantastic brace won the game, he never really did a great deal. There was the odd flashy performance here and there, but in all honesty, he didn't set the world alight. If United had performed to their usual standards, he would not have stood out. They performed dismally, so it meant that Januzaj's displays combined with his youth created a feeling that United had a superstar on their hands.
When trying to assess Januzaj, the first thing that needs to be looked at is what he actually achieved to create such a fuss. That is quite difficult to quantify. After being handed his debut by Moyes, he played a total of 35 games and scored four goals. For an 18 year old that is not bad, but in reality the two goals he scored at The Stadium of Light was the moment tongues started wagging, and the basis on which they continued. His performances were good, and he looked calm and confident depsite his tender years, but it was the potential rather than the here and now that caught the attention.
After his breakthrough season he was handed Ryan Giggs' sacred No.11 shirt, but despite this and his high reputation, when Louis van Gaal took over it was always going to be difficult to make a splash. Big names such as Angel Di Maria came in and understandbly he struggled, but a return of 18 appearances without troubling the scorers was not what was in the script. He started off in van Gaal's plans this year, but despite scoring the winner at Villa Park, he was sensibly sent out on loan to try and get game time. The resurgent Borussia Dortmund should have been a perfect fit, but alas he could not bed down a place there either and his loan was cut short.
There are probably a huge number of reasons why, in two short years, Januzaj is no longer featuring for United and cannot get in the Belgium squad. The most brutal one is that he is not good enough to command a place. He maybe, but he has not showed enough when he has been handed opportunites to be a regular in the starting line up and ultimately that is what you have to be judged on.
Attitude in question
Attitude is something that is questioned when it comes to Januzaj. His loan being cut short at Dortmund was likely due to football reasons, but the Dortmund coach, Thomas Tuchel, offered a different perspective. He cited Januzaj's attitude, and inferred that Januzaj compared everything at Dortmund to United - and didn't paint the German's set up in a good light. As a United fan, that could be seen as a good thing, but in reality Januzaj has not endeared himself to the people who matter - his managers.
Van Gaal welcomed him back, but his lack of fitness meant he stuggled to make the match day squads immediately. In fact, he has hardly featured at all. He has made two substitute appearances, the last of which was against Arsenal in March. Injuries are largely responsible for his continued absence, but when he has appeared in the U-21's there has been a rumour that his 'showboating' has irked the coaches.
Januzaj's demise cannot be a barometer for other careers
Whether it is ability, attitude or a comination of both that has stalled his progress, he shouldn't be used as a guide as to how United's current crop of talented youngsters will fair. At least one media outlet has suggested that Januzaj's fall from grace could be repeated when it comes to Marcus Rashford. There are certain parallel's of course. Rashford has been the success story for United in what has been an incredibly dull season. However, he has contributed a huge amount in his fledgling career to date. Seven goals in 12 appearances, and the match winner in two of those including against Manchester City away.
He has eclipsed Januzaj's 'achievements' already, and although it is impossible to predict how Rashford's career will develop, the ability he has shown is incredible for one so young. He is rapid, intelligent with his movements, can hold the ball up, and has no small amount of skill. He seems to be remarkably level headed also, there are certainly no questions being asked of his attitude. He will be too difficult to ignore for whoever is in charge next season. That subject is where the story has eminated.
Some of the kids look the real deal
If Jose Mourinho takes over, his record for bringing through youngsters is non-existent. United appear to be gearing up to go big in the transfer market once again, and as with the previous splurge, the likelihood is that 18 year old kids are not going to be able to oust global superstars. That could be true. Except some of the players that have been blooded by van Gaal are superstars in the making. They are not only deserving of a chance, but they have outperformed their more experienced and costly colleagues.
As well as Rashford, Cameron Borthwich-Jackson and Timothy Fosu-Mensah have been outstanding whenever they have took the field. These three players back up the adage "If you are good enough, you are old enough". These players could be ovelooked by Mourinho, but only if the Portuguese has taken leave of his senses. Much is made of his reluctance to give youth a chance, but maybe he hasn't had players with the sort of potential that these three possess. It is one thing to be given an opportunity, it is another grasping it. These three have.
In addition, the likes of Guillermo Varela and Donald Love have also impressed and Ro-Shaun Williams and Regan Poole are tipped for big careers. Andreas Perriera is also an outstanding prospect, though his game time has been limited. So there is a wealth of young talent at the moment, and it may be asking a lot for all of the players to make it. They have already been exposed to first team action and not looked out of place.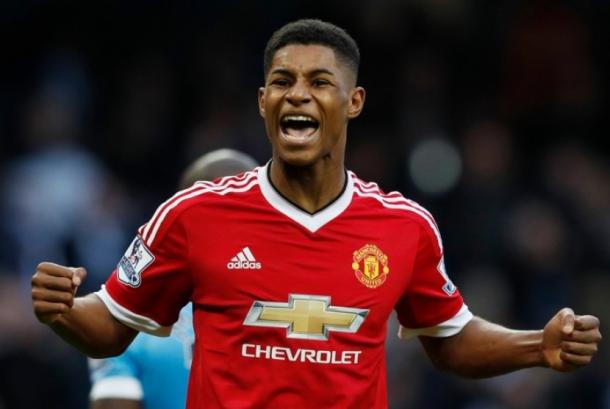 Established players could be more at threat of the axe
If United bring in some big money, high profile signings in the summer, it is understandable that it would make it harder for some of the younger players to command a place in the team. However, the likes of Lingard and Juan Mata may well find that they are the ones to make way. Lingard is another youngster who has impressed with his pace, energy and work rate but without much of an end product. Juan Mata just hasn't produced. Rather than ditching the kids, it is the established players that could be most under threat in the summer.
Januzaj's fate is not clear, but the reality is that unless he starts to deliver on his intial promise, he will not remain at Old Trafford. It is reported that he is thinking of switching his internationl alegience to Kosovo, his place of birth. If that is true, than sadly it says a lot about where Januzaj's head is at and where his career is headed. Rashford and co. are not on the same path, of that you can be sure.