An early Damien Delaney own goal and a fantastic finish from Matteo Darmian in the second half pretty much sealed all three points for Manchester United against Crystal Palace. Loui van Gaal made three changes to the side who are few days away from facing Everton in the FA Cup semi-final. An important win for United who still chasing for fourth spot in the Premier League.
Crystal Palace weren't much of a problem for Manchester United tonight, the away side only managed one shot on target through the whole game. The manager Alan Pardew made a lot of changes his side are also involved in the FA Cup semi-final.
Another clean sheet from the back line
David De Gea (6 out of 10) – The goalkeeper didn't have too much do during the game, as the opponents only managed one shot in 90 minutes. The Spaniard won't be sad that he wasn't tested and he must have enjoyed watching the side win another game at home.
Antonio Valencia (7 out of 10) – Since returning to the starting line-up last weekend, Valencia has been solid defensively and going forward. The Ecuadorian was fast and direct but didn't have to deal with any trouble in the right-back position.
Chris Smalling (7 out of 10) – Played a good role in keeping Adebayor quiet, the striker couldn't get many touches without Smalling closing him down. The centre-back was once again commanding in defence and had a straight forward to do this evening.
Daley Blind (7 out of 10) – Didn't have many defensive duties to do, the Dutchman read the game very well. Blind's passes started up a few of United's quick attacks, other than that he wasn't called into action that much.
Matteo Darmian (8 out of 10) – The Italian has finally got his first goal for Manchester United and what a cracker it was. Also, it was his cross early into the game that led to Delaney's own goal. The defender is finally picking up some quality performances in his first season at the club.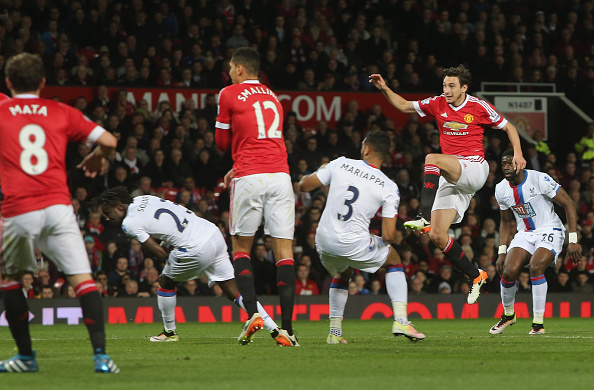 Lively midfield three
Morgan Schneiderlin (7 out of 10) – Was meant to have a big game on his hands being the side's only protection in front of the defence, but the Frenchman was solid once again and controlled everything. He wasn't troubled at all.
Wayne Rooney (8 out of 10) – The captain has been fantastic since returning from injury, he played in a free role in the centre of midfield. Rooney played wonderfully in a position he isn't best in, for instance dropping deep when needed to and position himself very well. He also had a chance to add a goal to his name, but Speroni saved the shot.
Juan Mata (7 out of 10) – Caused a few problems to Crystal Palace, Mata and Lingard kept changing positions throughout the game too. Had a few chances in the opposition's box, but he couldn't do enough to convert it. Small improvement by the Spaniard compared to his previous games.
Front three lacked the finishing
Jesse Lingard (6 out of 10) – Worked well on the right-hand side, gave Valencia some help too when it came to defensive duties. Lingard didn't do much during the game, despite having the chance to add his name to the goal sheet.
Anthony Martial (7 out of 10) – Martial caused a lot of problems, forced Speroni into making a few fantastic saves. Should have scored one of the chances, but it seems like the Frenchman should stick to playing on the wings instead of playing through the middle. The pace of the youngster is really difficult for opponents to handle.
Marcus Rashford (6 out of 10) – Led the line very well, gave Palace's centre-backs a lot of problems with his pace and movement. Good game for Rashford, who had a good chance to score a goal and he went down in the penalty box but the referee didn't give anything for it.